1135 East Balboa (House)
5 Bedroom(s) | 4 Bathroom(s) | Sleeps 11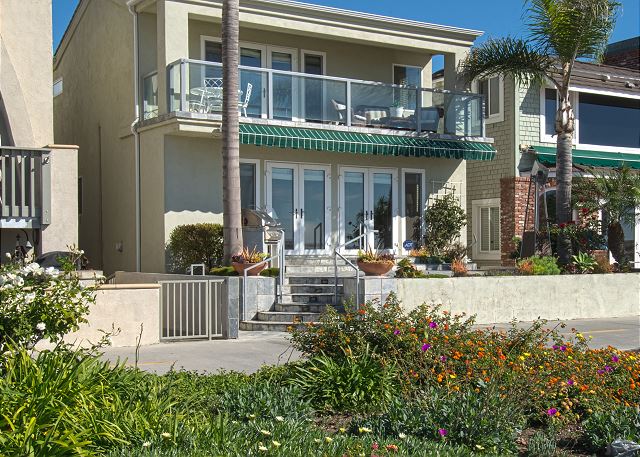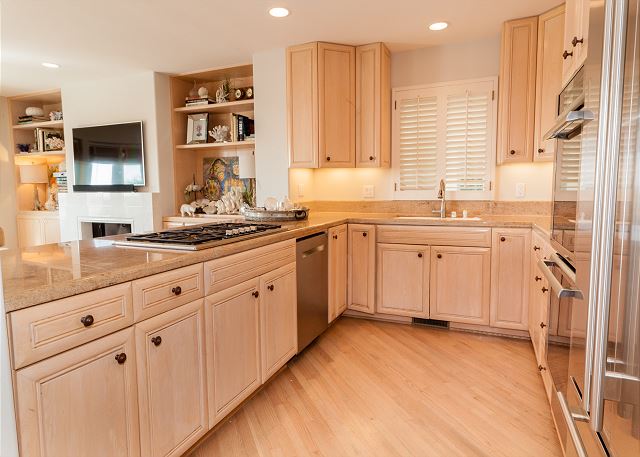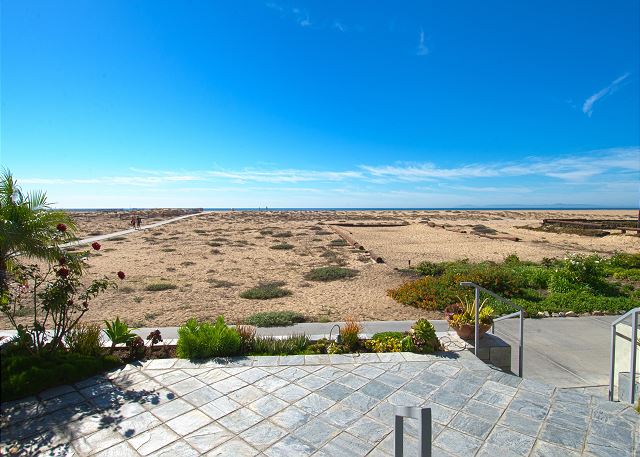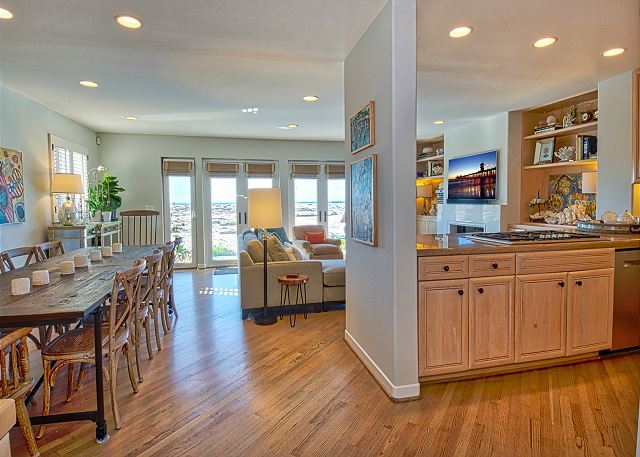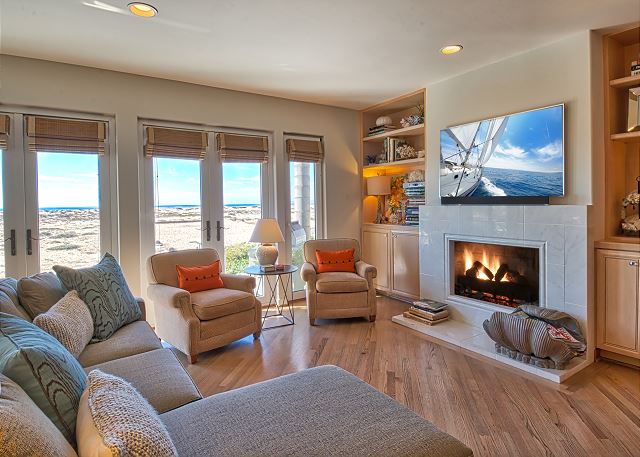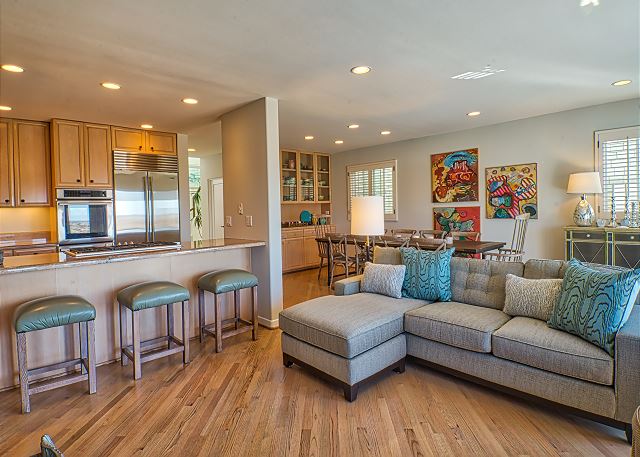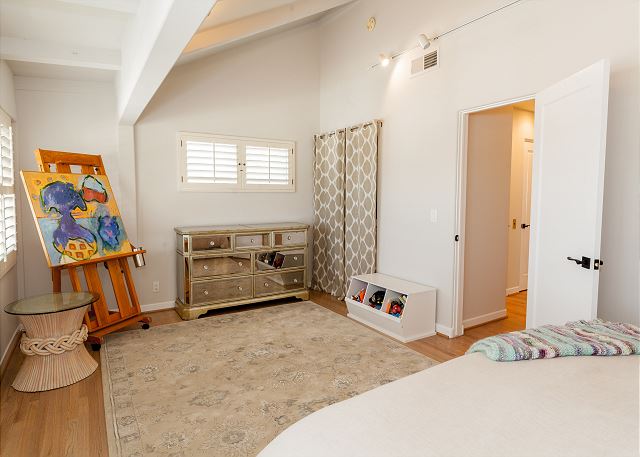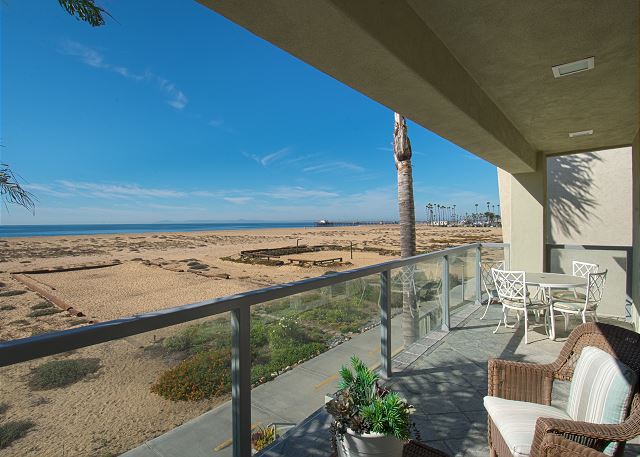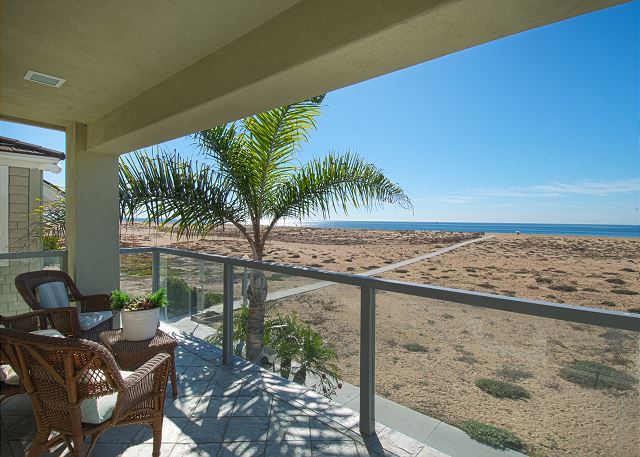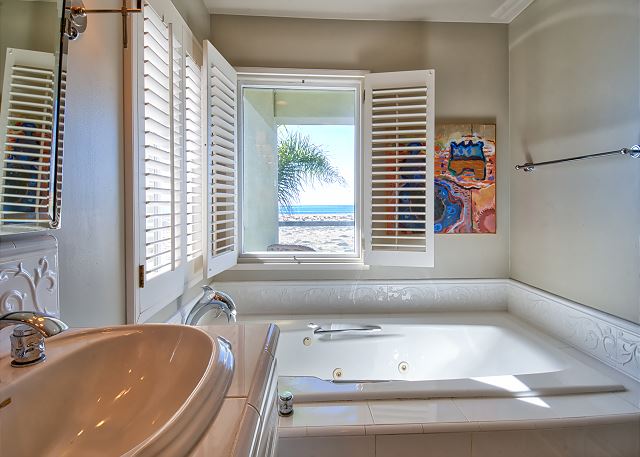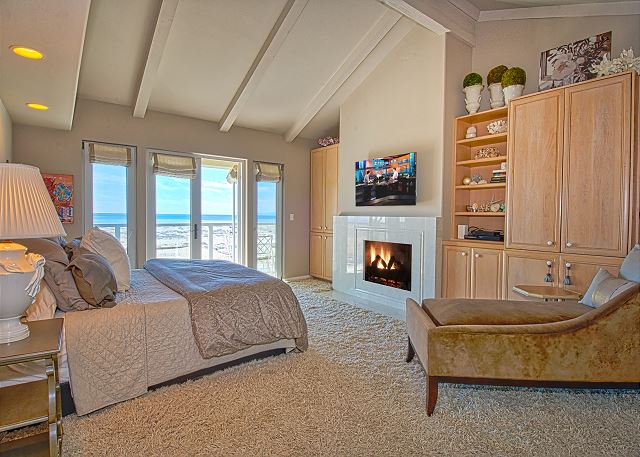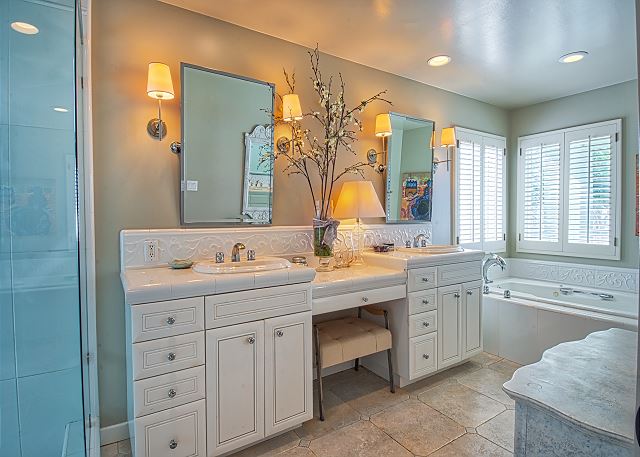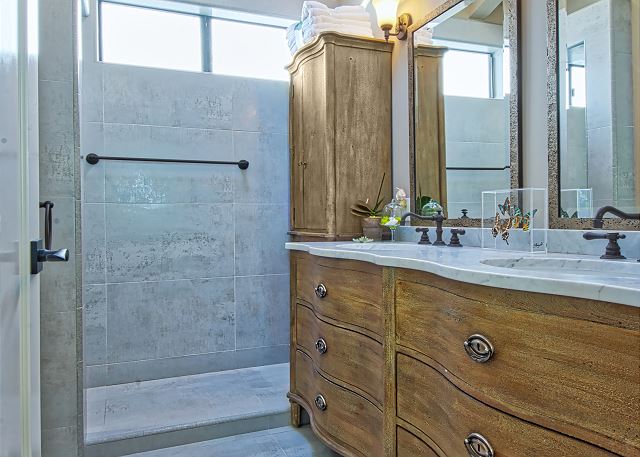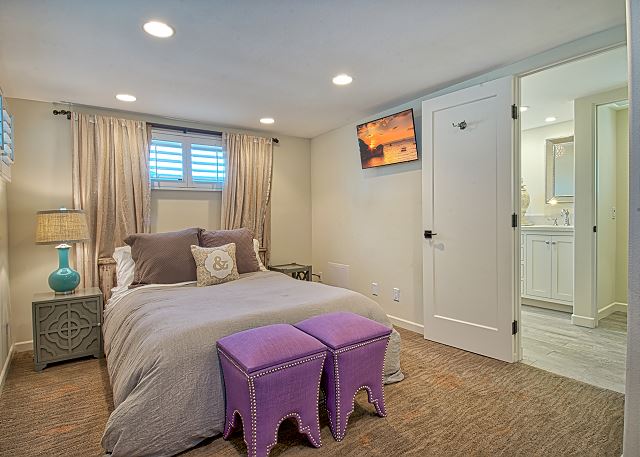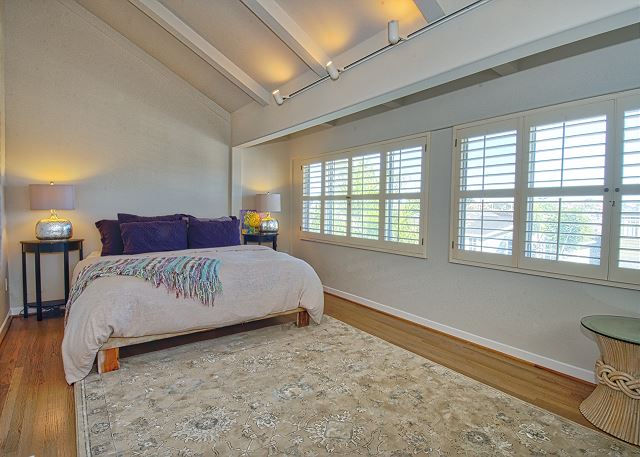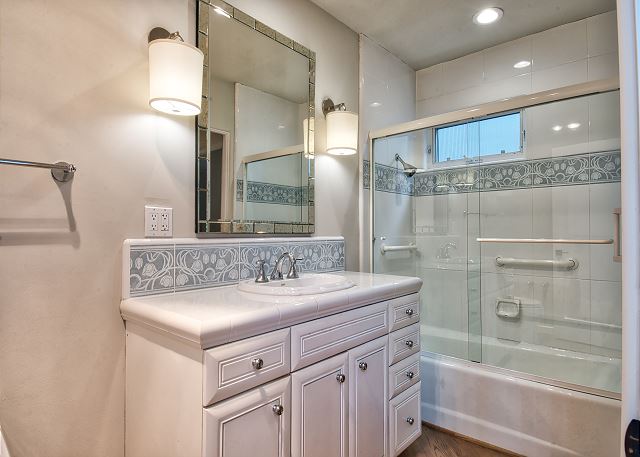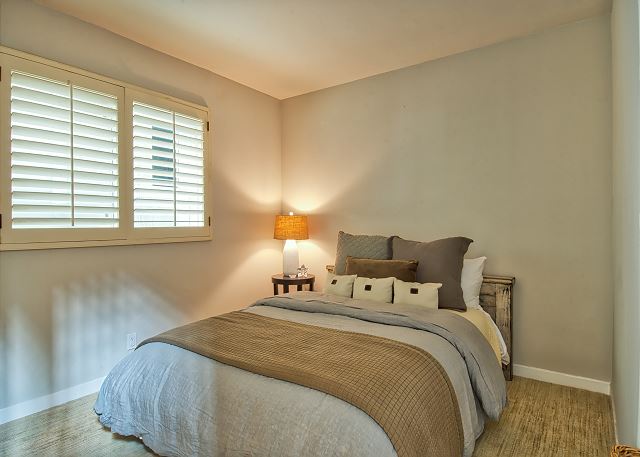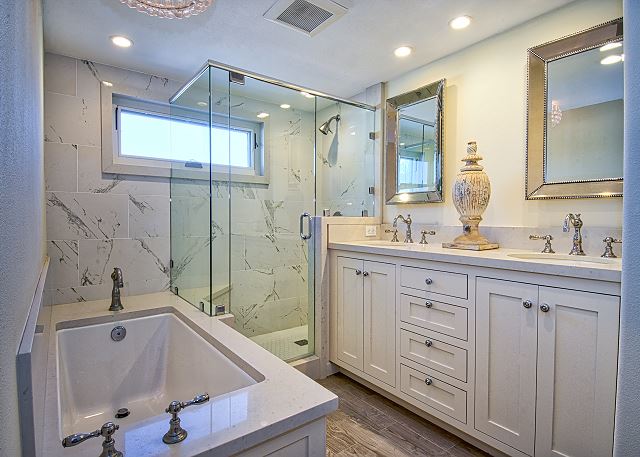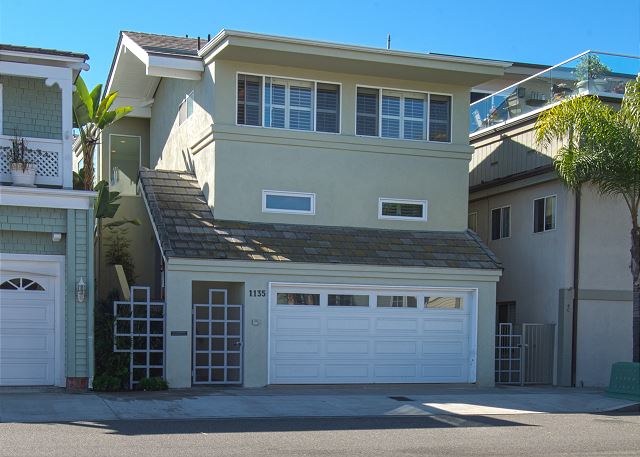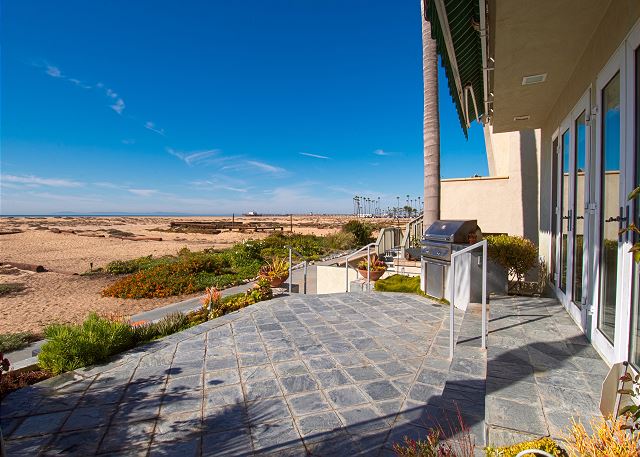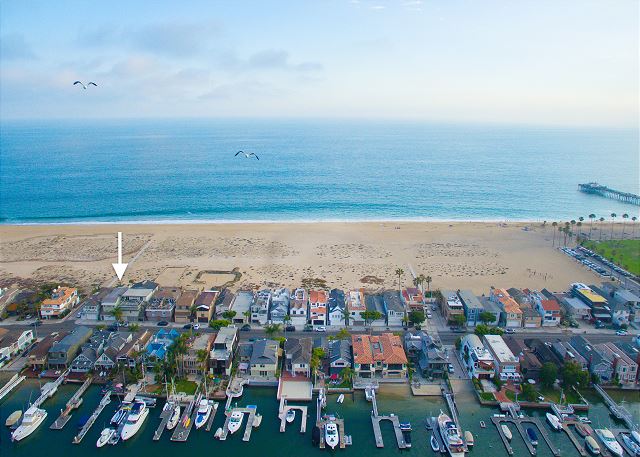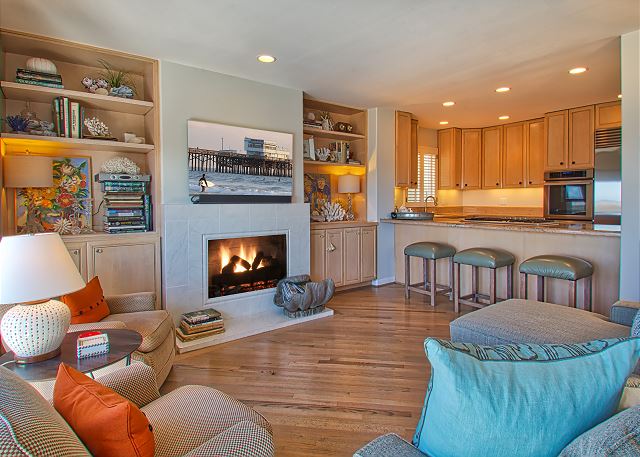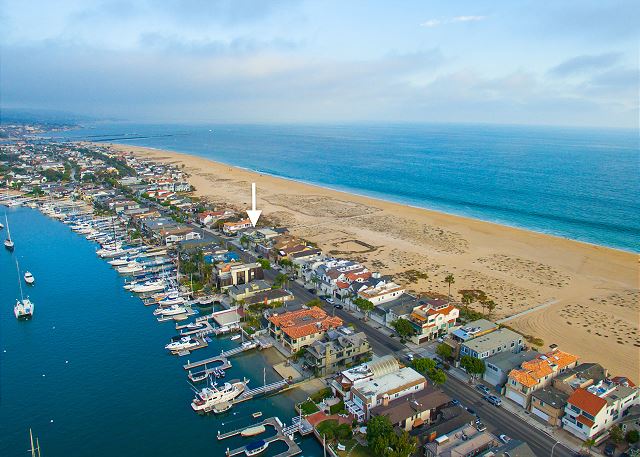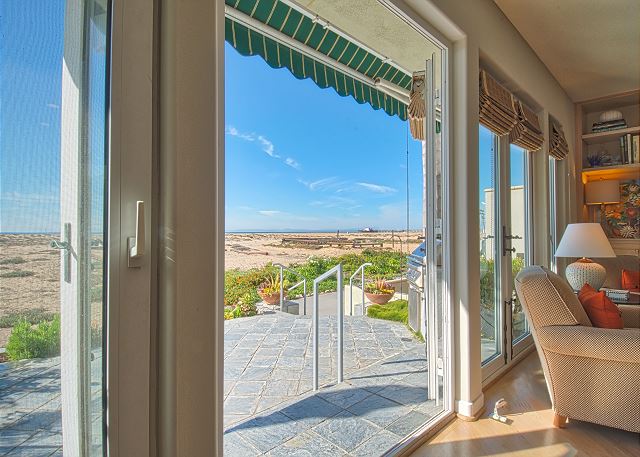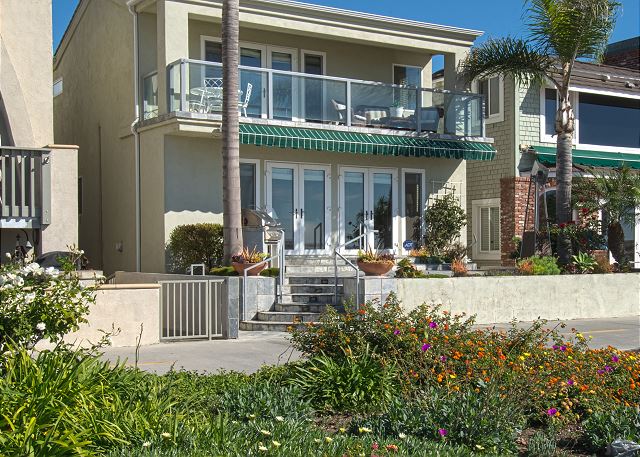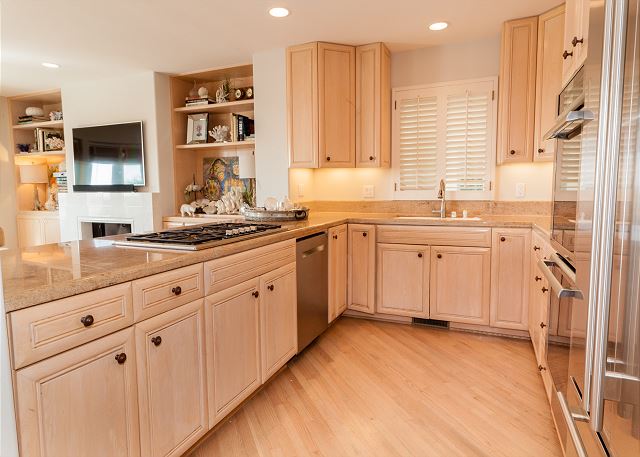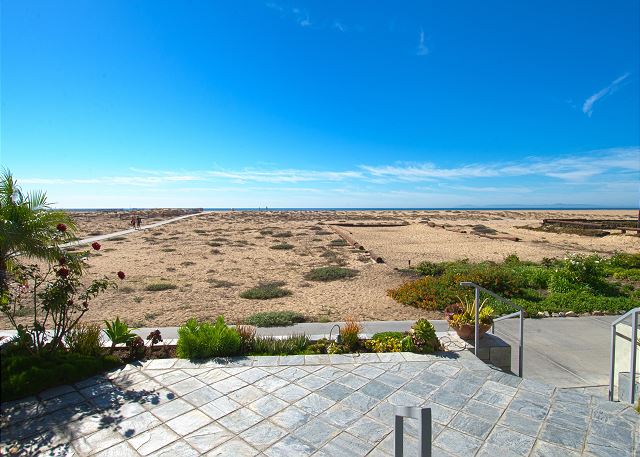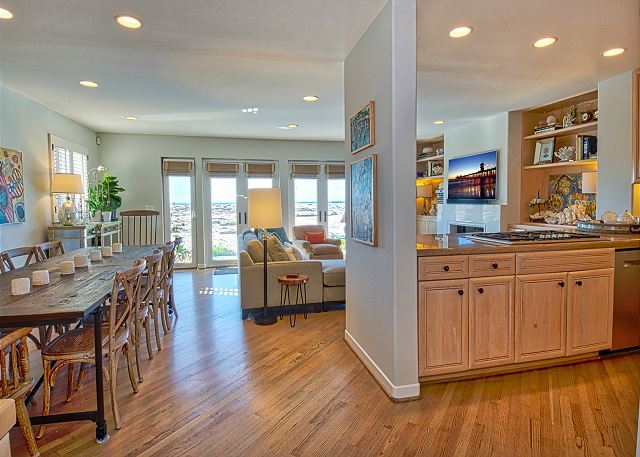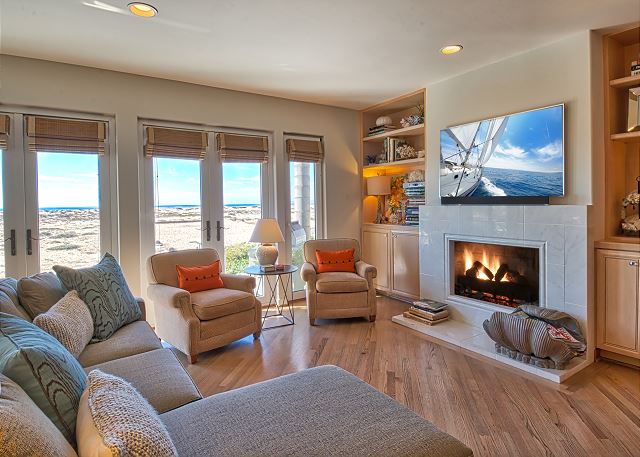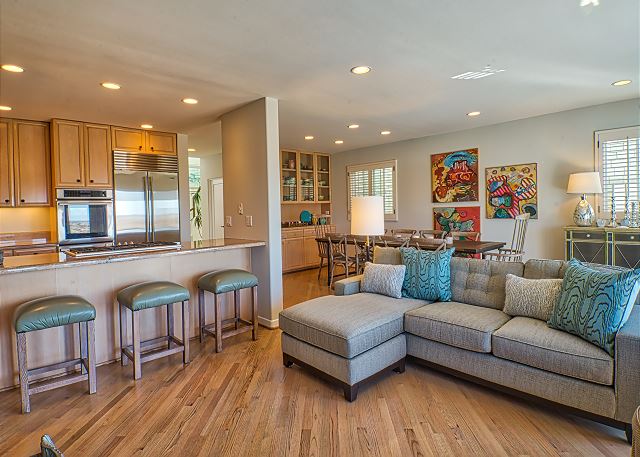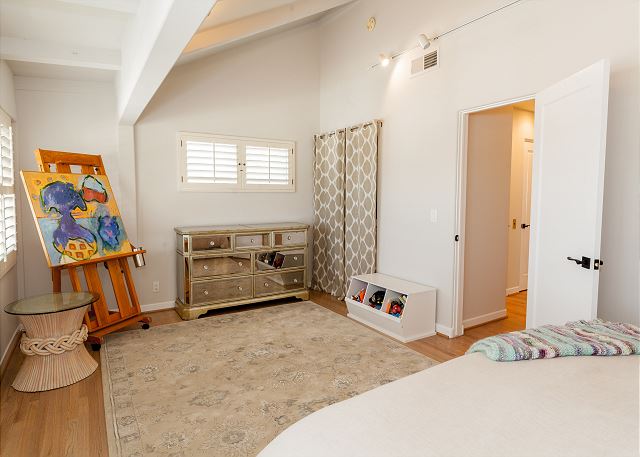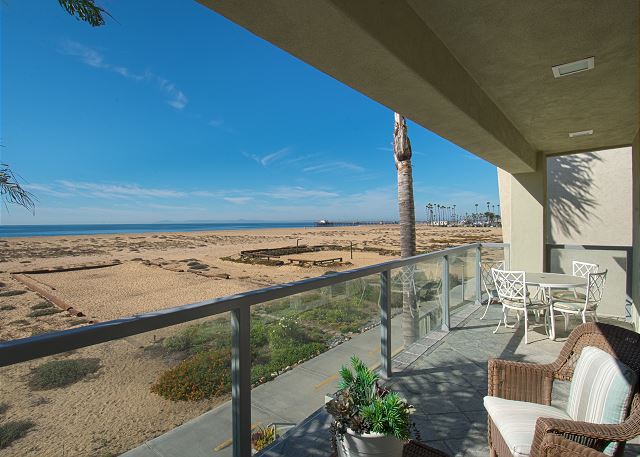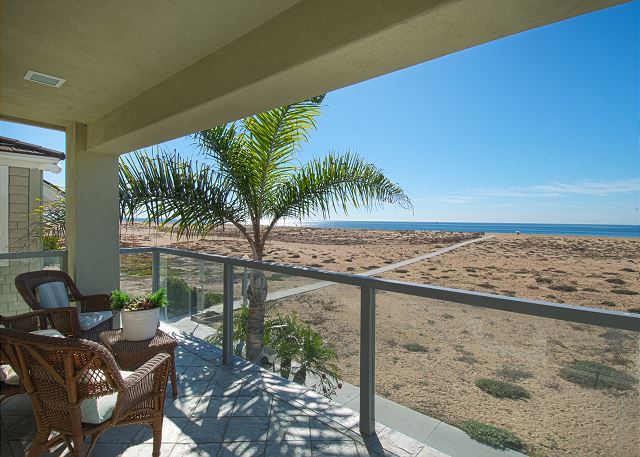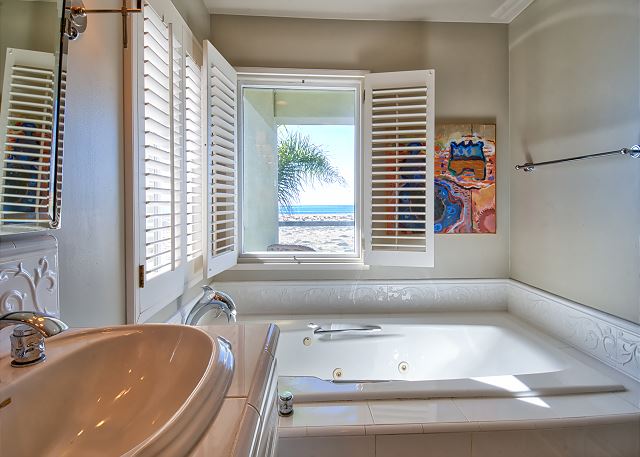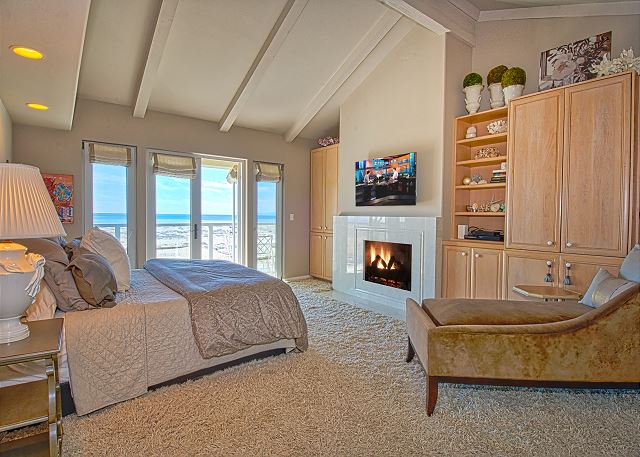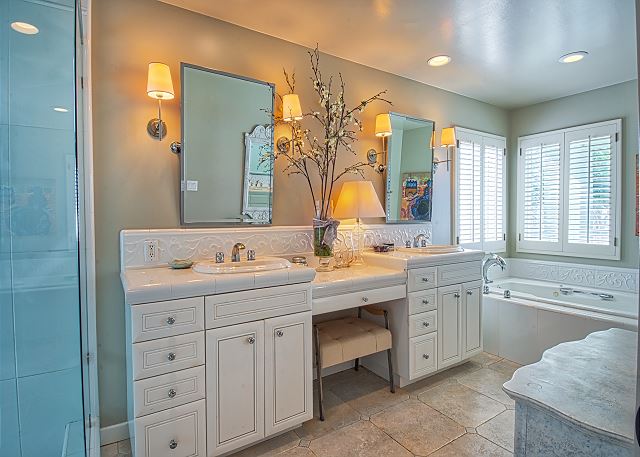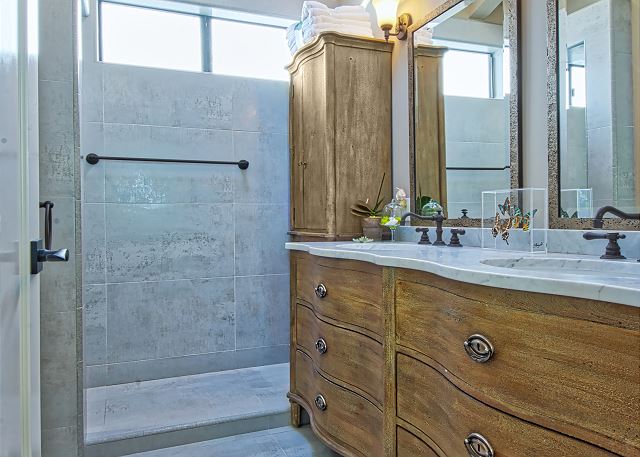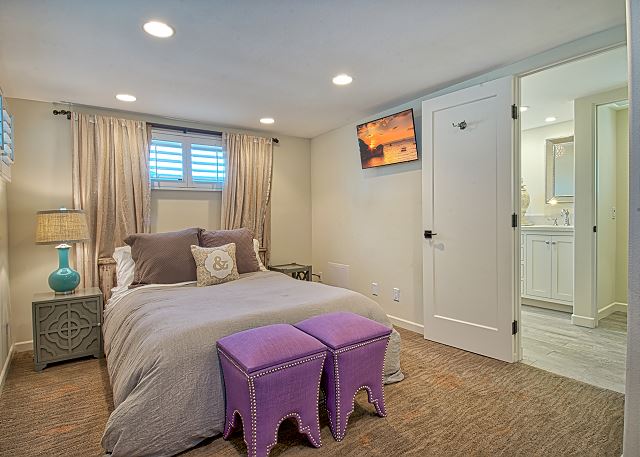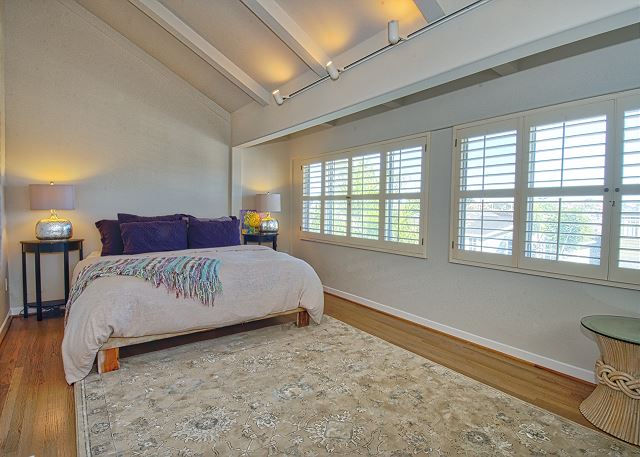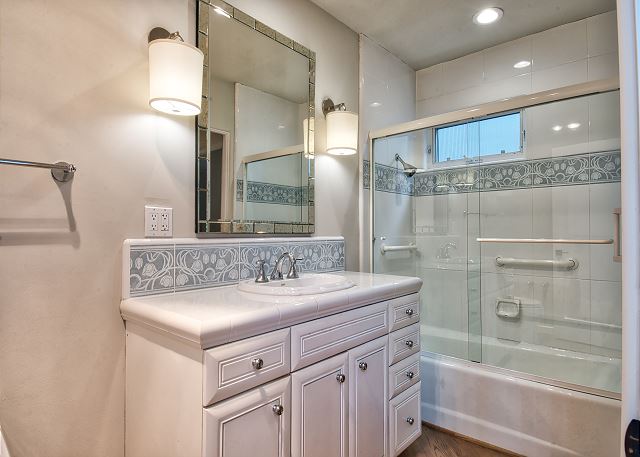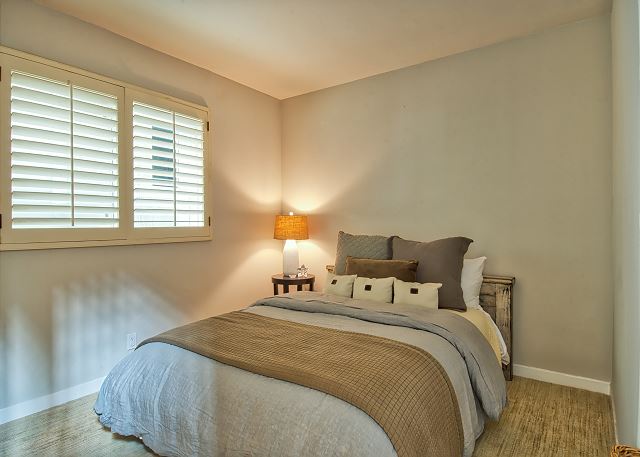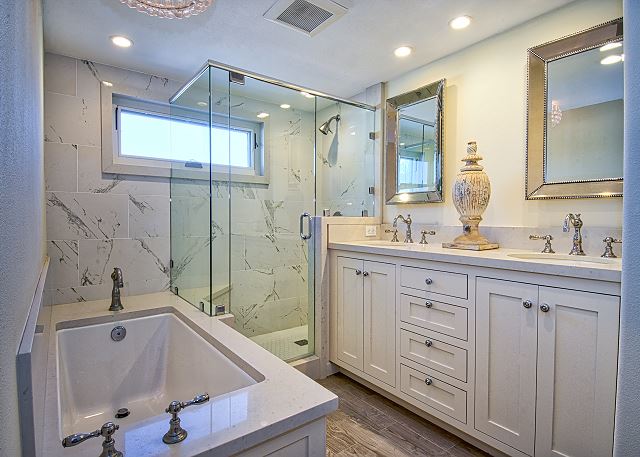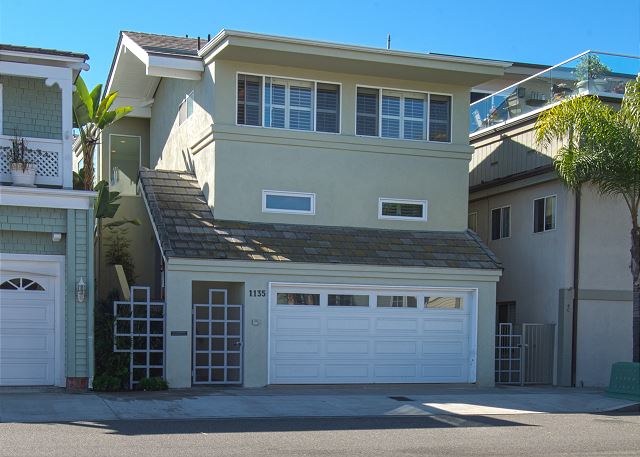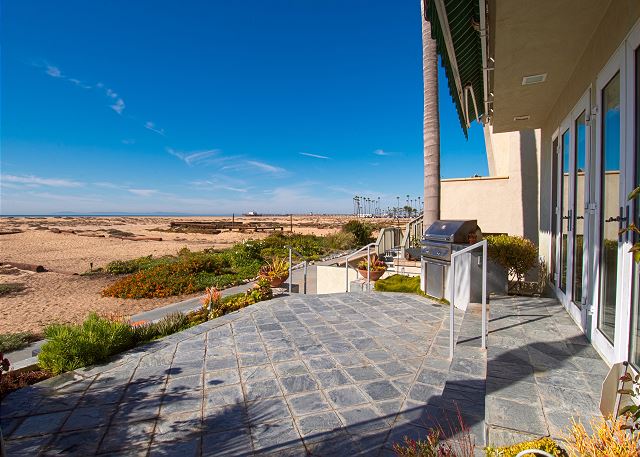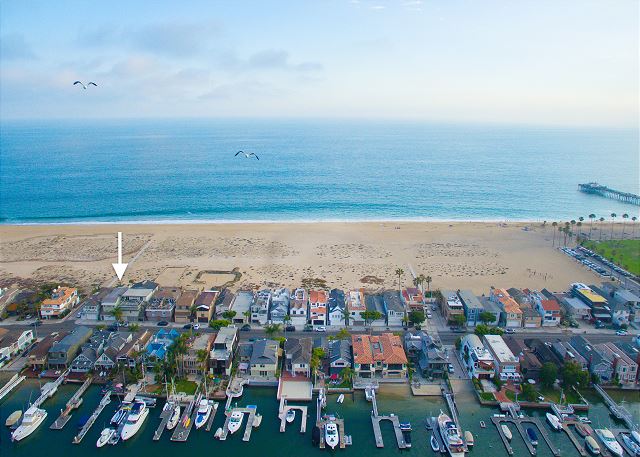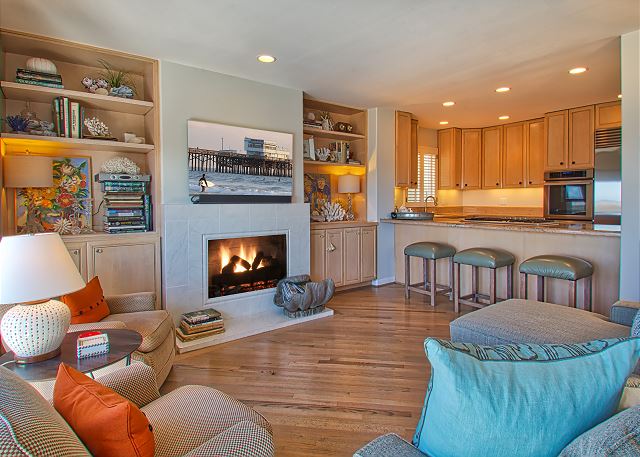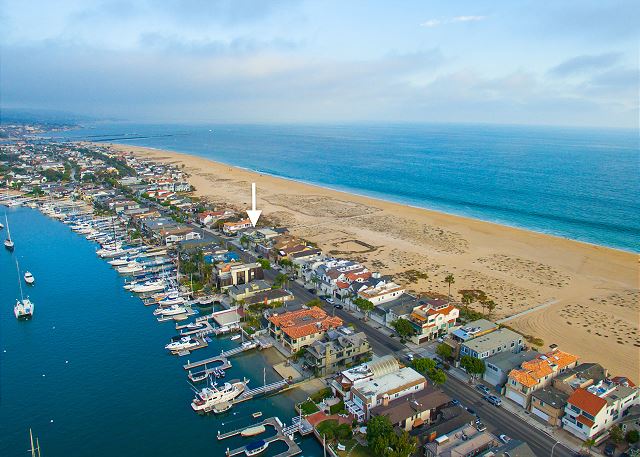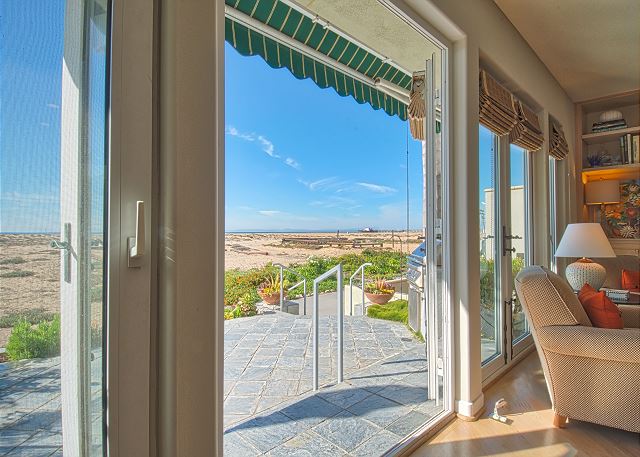 Description
On the sand between the famous Wedge and the Balboa Pier, this beautiful Balboa Peninsula beach home offers panoramic ocean views from each floor. The home is masterfully designed with a raised first floor to take advantage of the main living area ocean views from the family room, kitchen and dining space. The patio is complete with dining set, lounge chairs, and bbq is ideally situated on the boardwalk steps from the waves, volleyball, and a short stroll to restaurants, shops, the Balboa Fun Zone, and the Ferry to Balboa Island.



5 bedrooms offer plenty of privacy for guests, with 2 bedrooms on the first floor. (Back bedroom on ground floor does require climbing a few steps). Master bedroom has incredible ocean views from the second floor private patio and soak in tub. A kids room with a bunk bed and a back bedroom with a king size bed round out the second floor. The perfect place to call home and enjoy the very best of Newport Beach! Garage can fit two regular size cars. Available for year round short term stays, please inquire for availability and rates. SLP12352
Calendar
January 2022

| S | M | T | W | T | F | S |
| --- | --- | --- | --- | --- | --- | --- |
| | | | | | | 01 |
| 02 | 03 | 04 | 05 | 06 | 07 | 08 |
| 09 | 10 | 11 | 12 | 13 | 14 | 15 |
| 16 | 17 | 18 | 19 | 20 | 21 | 22 |
| 23 | 24 | 25 | 26 | 27 | 28 | 29 |
| 30 | 31 | | | | | |
February 2022

| S | M | T | W | T | F | S |
| --- | --- | --- | --- | --- | --- | --- |
| | | 01 | 02 | 03 | 04 | 05 |
| 06 | 07 | 08 | 09 | 10 | 11 | 12 |
| 13 | 14 | 15 | 16 | 17 | 18 | 19 |
| 20 | 21 | 22 | 23 | 24 | 25 | 26 |
| 27 | 28 | | | | | |
March 2022

| S | M | T | W | T | F | S |
| --- | --- | --- | --- | --- | --- | --- |
| | | 01 | 02 | 03 | 04 | 05 |
| 06 | 07 | 08 | 09 | 10 | 11 | 12 |
| 13 | 14 | 15 | 16 | 17 | 18 | 19 |
| 20 | 21 | 22 | 23 | 24 | 25 | 26 |
| 27 | 28 | 29 | 30 | 31 | | |
April 2022

| S | M | T | W | T | F | S |
| --- | --- | --- | --- | --- | --- | --- |
| | | | | | 01 | 02 |
| 03 | 04 | 05 | 06 | 07 | 08 | 09 |
| 10 | 11 | 12 | 13 | 14 | 15 | 16 |
| 17 | 18 | 19 | 20 | 21 | 22 | 23 |
| 24 | 25 | 26 | 27 | 28 | 29 | 30 |
May 2022

| S | M | T | W | T | F | S |
| --- | --- | --- | --- | --- | --- | --- |
| 01 | 02 | 03 | 04 | 05 | 06 | 07 |
| 08 | 09 | 10 | 11 | 12 | 13 | 14 |
| 15 | 16 | 17 | 18 | 19 | 20 | 21 |
| 22 | 23 | 24 | 25 | 26 | 27 | 28 |
| 29 | 30 | 31 | | | | |
June 2022

| S | M | T | W | T | F | S |
| --- | --- | --- | --- | --- | --- | --- |
| | | | 01 | 02 | 03 | 04 |
| 05 | 06 | 07 | 08 | 09 | 10 | 11 |
| 12 | 13 | 14 | 15 | 16 | 17 | 18 |
| 19 | 20 | 21 | 22 | 23 | 24 | 25 |
| 26 | 27 | 28 | 29 | 30 | | |
July 2022

| S | M | T | W | T | F | S |
| --- | --- | --- | --- | --- | --- | --- |
| | | | | | 01 | 02 |
| 03 | 04 | 05 | 06 | 07 | 08 | 09 |
| 10 | 11 | 12 | 13 | 14 | 15 | 16 |
| 17 | 18 | 19 | 20 | 21 | 22 | 23 |
| 24 | 25 | 26 | 27 | 28 | 29 | 30 |
| 31 | | | | | | |
August 2022

| S | M | T | W | T | F | S |
| --- | --- | --- | --- | --- | --- | --- |
| | 01 | 02 | 03 | 04 | 05 | 06 |
| 07 | 08 | 09 | 10 | 11 | 12 | 13 |
| 14 | 15 | 16 | 17 | 18 | 19 | 20 |
| 21 | 22 | 23 | 24 | 25 | 26 | 27 |
| 28 | 29 | 30 | 31 | | | |
September 2022

| S | M | T | W | T | F | S |
| --- | --- | --- | --- | --- | --- | --- |
| | | | | 01 | 02 | 03 |
| 04 | 05 | 06 | 07 | 08 | 09 | 10 |
| 11 | 12 | 13 | 14 | 15 | 16 | 17 |
| 18 | 19 | 20 | 21 | 22 | 23 | 24 |
| 25 | 26 | 27 | 28 | 29 | 30 | |
October 2022

| S | M | T | W | T | F | S |
| --- | --- | --- | --- | --- | --- | --- |
| | | | | | | 01 |
| 02 | 03 | 04 | 05 | 06 | 07 | 08 |
| 09 | 10 | 11 | 12 | 13 | 14 | 15 |
| 16 | 17 | 18 | 19 | 20 | 21 | 22 |
| 23 | 24 | 25 | 26 | 27 | 28 | 29 |
| 30 | 31 | | | | | |
November 2022

| S | M | T | W | T | F | S |
| --- | --- | --- | --- | --- | --- | --- |
| | | 01 | 02 | 03 | 04 | 05 |
| 06 | 07 | 08 | 09 | 10 | 11 | 12 |
| 13 | 14 | 15 | 16 | 17 | 18 | 19 |
| 20 | 21 | 22 | 23 | 24 | 25 | 26 |
| 27 | 28 | 29 | 30 | | | |
December 2022

| S | M | T | W | T | F | S |
| --- | --- | --- | --- | --- | --- | --- |
| | | | | 01 | 02 | 03 |
| 04 | 05 | 06 | 07 | 08 | 09 | 10 |
| 11 | 12 | 13 | 14 | 15 | 16 | 17 |
| 18 | 19 | 20 | 21 | 22 | 23 | 24 |
| 25 | 26 | 27 | 28 | 29 | 30 | 31 |
Available
Unavailable
Check-In Only
Check-Out Only
Seasonal Rates
| Date Range | Daily | Weekly | Monthly |
| --- | --- | --- | --- |
| 01/03/2022 - 04/07/2022 | $1,843.85 | $9,997.71 | $36,440.42 |
| 04/08/2022 - 04/24/2022 | $1,935.83 | $12,646.80 | N/A |
| 04/25/2022 - 05/26/2022 | $1,649.29 | $9,242.18 | $34,716.63 |
| 05/27/2022 - 06/16/2022 | $1,911.03 | $11,640.82 | N/A |
| 06/17/2022 - 08/13/2022 | $2,080.03 | $16,520.89 | N/A |
| 08/14/2022 - 09/10/2022 | N/A | $12,576.59 | N/A |
| 09/12/2022 - 11/22/2022 | $2,815.96 | $14,487.96 | $41,080.52 |
| 11/23/2022 - 11/27/2022 | $3,156.17 | N/A | N/A |
| 12/21/2022 - 01/01/2023 | $3,083.87 | $20,024.02 | N/A |
| 01/02/2023 - 03/30/2023 | $1,986.37 | $10,501.75 | N/A |
* Seasonal rates are only estimates and do not reflect taxes or additional fees.
Location
Guest Reviews of
1135 East Balboa
Newport Beach, CA
---
Vacation Rental Reviews by
stars based on
Great Beach House Getaway
Review by
We stayed here between Xmas and New Years with extended family. The house was comfortable for 11 people including 3 teens and 2 grandparents in their late 80s and90s. It poured the whole time we were there so we were grateful for the beautiful views, plenty of room to spread out since we were stuck inside, and proximity to things to during the sun breaks we got! My only criticism is that there wasn't a lot of direction about working the main TV system and zero info about the fireplaces. We figured them out though. The home was not as clean as I would have hoped—mainly in the kitchen. Many of the dishes and pots and pans needed to be washed before using and the drawers and cupboards were a mess. The toaster only worked on one side. We needed more kitchen towels as there was only one. The kitchen needs some TLC, but aside from that the house was great. The furniture on the front patio of the house is nice and comfortable but the awning is torn and frayed with long pieces just hanging there. Looked junky from the boardwalk.
4 out of 5 stars
Summer was nice, winter was cold.
Review by
We enjoyed this property in August so we booked again in December. Great location, very comfortable home with a nice layout, and well stocked kitchen. Nice neighbors. My biggest complaint was with staying warm: 1. the downstairs heat barely trickled out and couldn't get area above 70 deg. Management sent tech right away who changed the thermostat but that wasn't the problem. Maybe needs a new furnace. 2. Primary suite bed had a thin, too small, cheap bedspread on it. Our first night we were cold and couldn't leave the window open to hear the sound of the waves at night. Mgmt sent perfect quilt the next day. Thank you! 3. I'm generally disappointed will all Newport Beach home rentals and the extremely cheap towel service: cheap small white towels and only one set per person. Towels didn't dry in one day, so each shower ended with a somewhat damp towel for drying off. No beach towels. 4. Coffee maker is the cheapest one on the market...no auto shutoff and just ruins good coffee.It didn't quite feel like the high end home rental that we paid for and expected. I might stay again in the summer, but bring my own towels and coffee maker, although not sure how to do that if we're taking a flight there. And that shouldn't be necessary.Other small items I don't care to post publicly, but not sure how else to notify NBVR: primary bed metal headboard is completely rusted. Garage was disorganized when we arrived, we had to move everything around before we could park in it. Couldn't find extra pillow cases for the extra pillows. In my search for extra bed linens and covers, I came across a closet full with a mess of used bed linens. I would like to see this home and closets better organized with purpose and intention. The best vacation home rentals are the ones that show pride of ownership and this home is halfway there.
4 out of 5 stars
Wonderful week at the beach
Review by
Katherine L.
My family had a wonderful stay. The house was well suited for our multigenerational family vacation. The house was well stocked for cooking, BBQ, and playing in the beach. We were never in need of a thing. I highly recommend the property.
5 out of 5 stars
Newport beach house vacation
Review by
Joy B.
Our family of 10 had a nice week at this lovely home. It is a fun, artsy house in a nice location. We use the bicycles on the walkway and walked into the small downtown area as well as played on the beach. We also walked to the Balboa island Ferry and had dinner on the island. Fun for the whole family.
5 out of 5 stars
Manager Response:
Hi Joy, It sounds like you had a wonderful time with your whole family, and we're so glad you enjoyed your stay. Thanks! - NBVP Team
Balboa
Review by
Richard D.
Very nice house. Well equipped and maintained. Property management very professional and accommodating. Nice place to enjoy a beach vacation.
5 out of 5 stars
Manager Response:
Hi Richard, We're so glad to know you enjoyed your vacation and rental on Balboa Peninsula. Thanks! NBVP Team
Best Vacation Ever!
Review by
Ann Marie G.
The property was exactly as described and met all our needs. The location is perfect - on the beach and close to eateries, stores, etc. The ferry is also a short walk from the house. My spouse has limited mobility so the house was perfect for him! Newport Beach Vacation Properties are great to work with and very responsive. We will be renting from them again in the future.
5 out of 5 stars
Manager Response:
Hi Ann Marie, We're so happy to know this vacation rental was everything you were looking for. We look forward to having you back! Thanks - NBVP Team
A+ Property
Review by
Alf J.
This is an A+ house in a great location. Nicely and comfortably furnished. Our group of 11 family members comprising 3 generations had fun in the water, volleyball, beanbag toss and on and on. The short walk to Main Street gets you to restaurants, ocean tours, The Fun Zone and shops.A great time had by all of us. Thank you
5 out of 5 stars
Manager Response:
Hi Alf, We're grateful to have been your hosts for a wonderful multigenerational vacation. We're so happy you all had a fantastic time and we hope you make this a tradition! Thanks - NBVP Team
Great beach house and great location
Review by
Zohar Z.
A great and spacious house facing the beach with the board walk in front but toward the end of it, which was quiet. The house has all the amenities that one needs for the beach and the area, such as bikes, beach chairs. The house is one short block from the bay with easy access to it for supping.We were a family of 10 people, all ages, and the 5 bedrooms and 4 baths are well situated and comfortable.We highly recommend it and will be back.
5 out of 5 stars
Manager Response:
Hi Zohar, We loved hosting your family and we're so happy to hear that this was the perfect rental. We truly appreciate your recommendation and look forward to your next trip! Thanks - NBVP Team
Contact Us