114 42nd Street (Duplex)
5 Bedroom(s) | 3 Bathroom(s) | Sleeps 10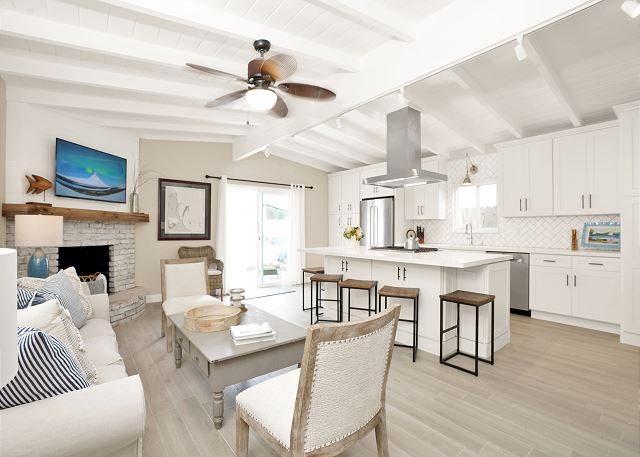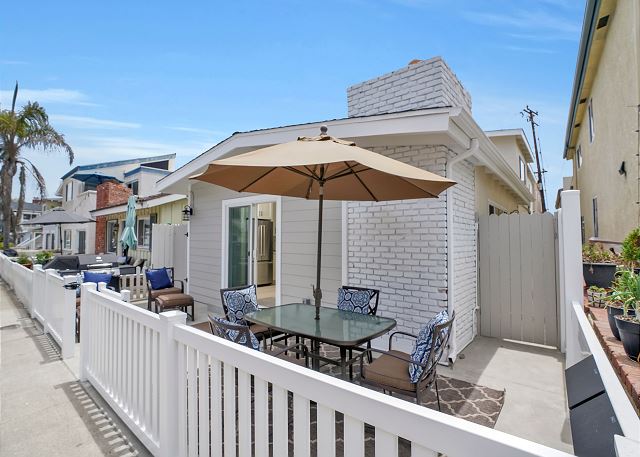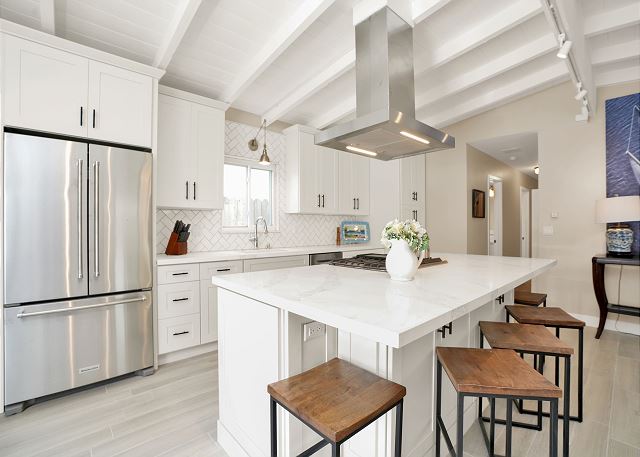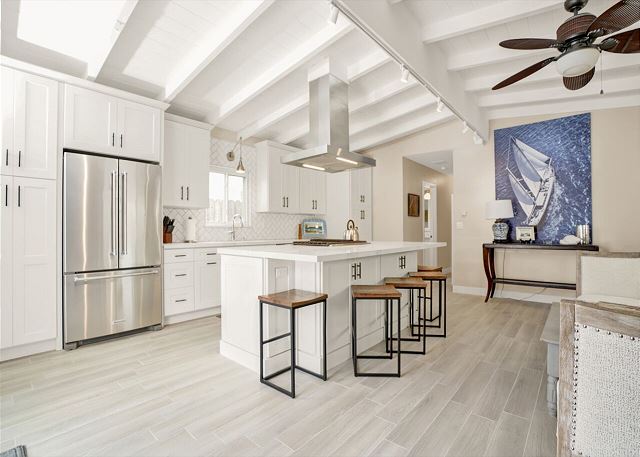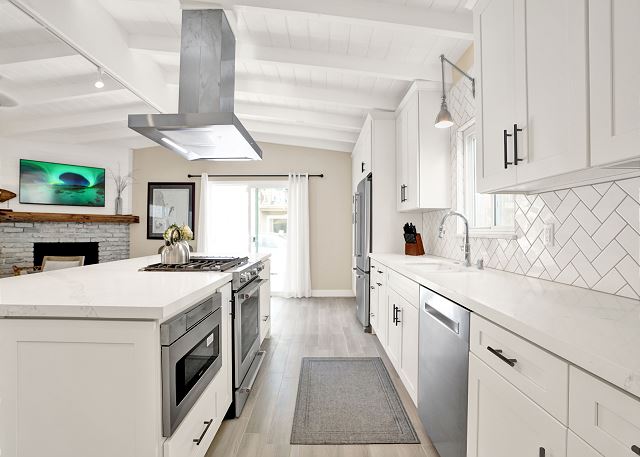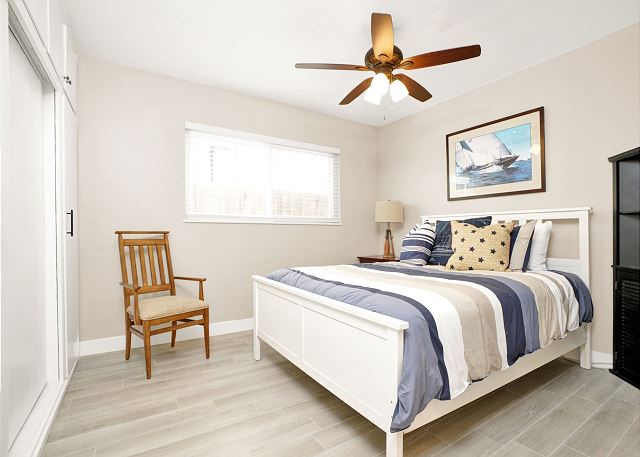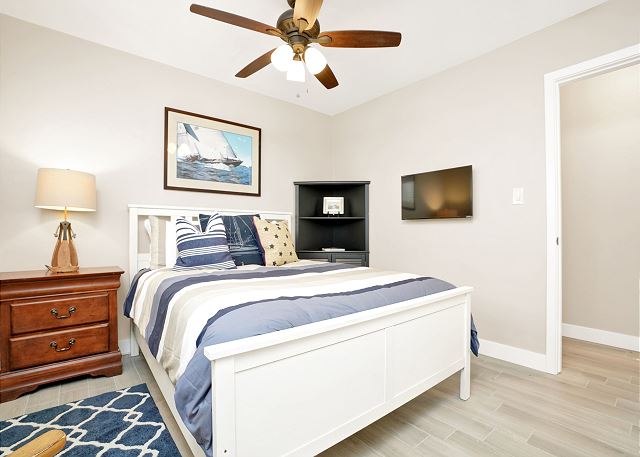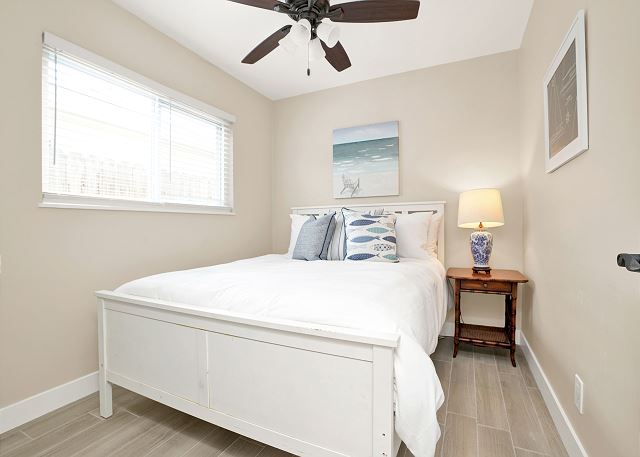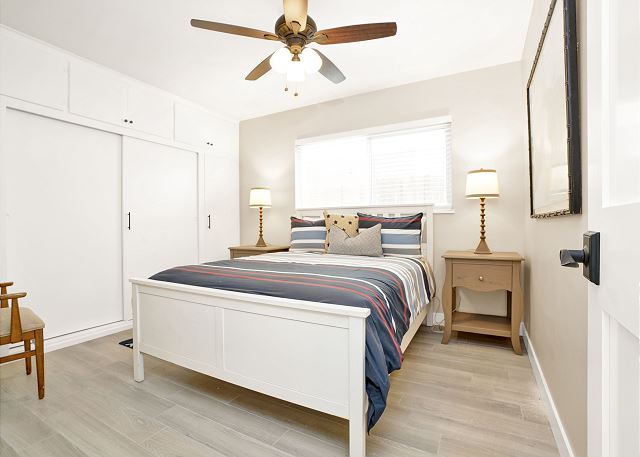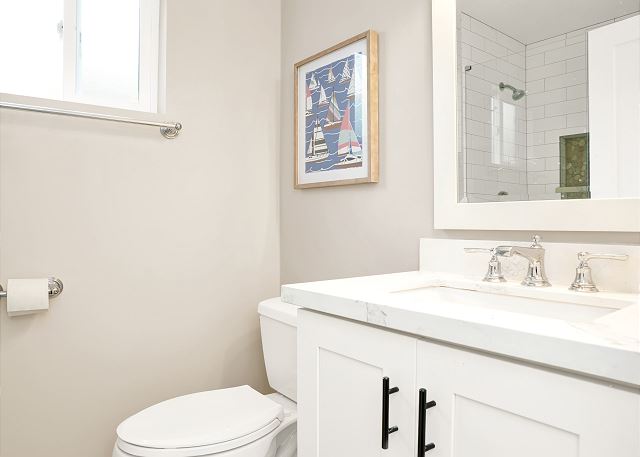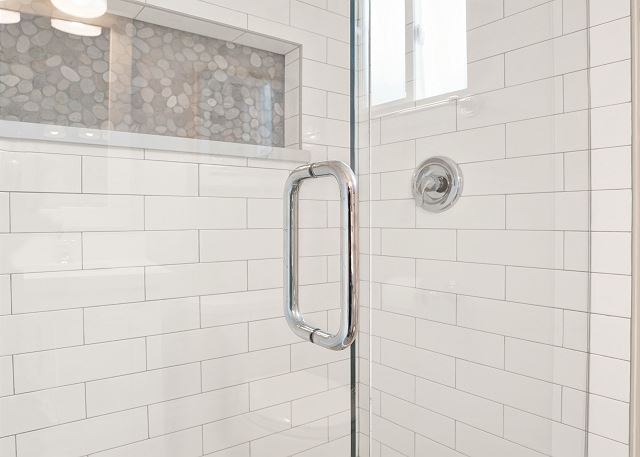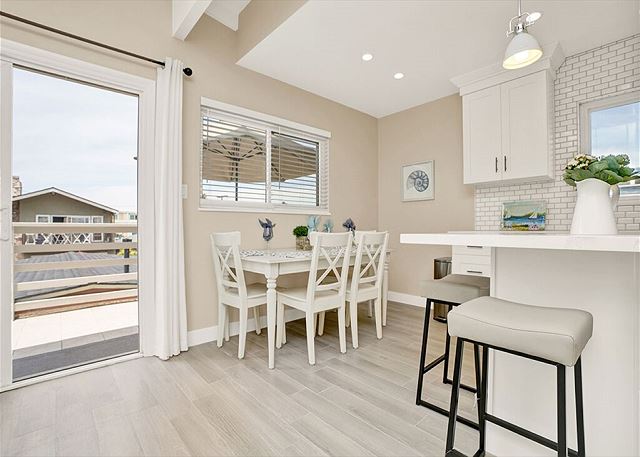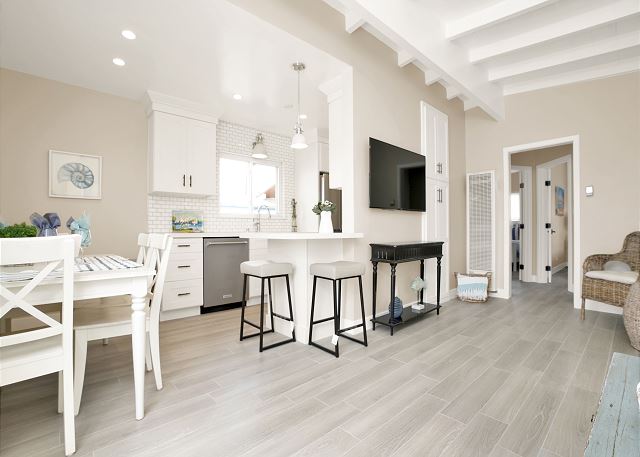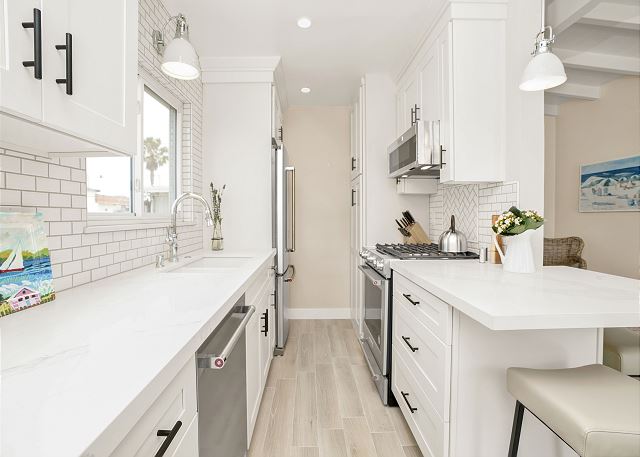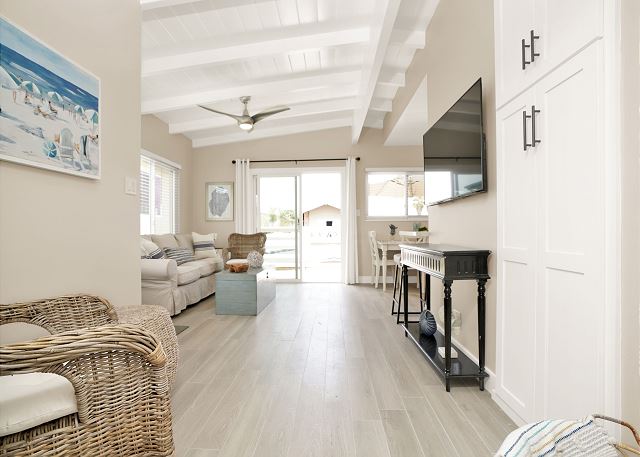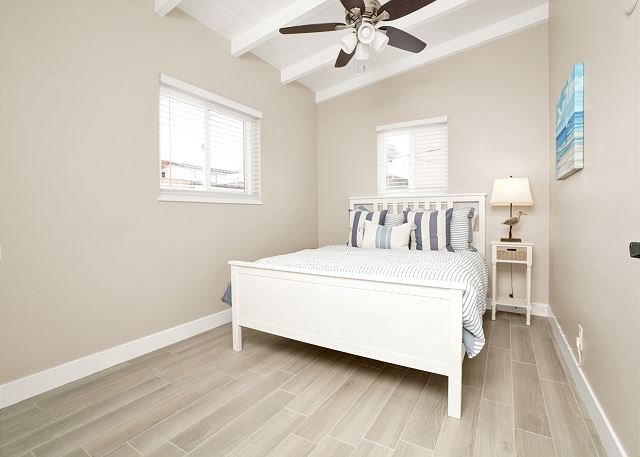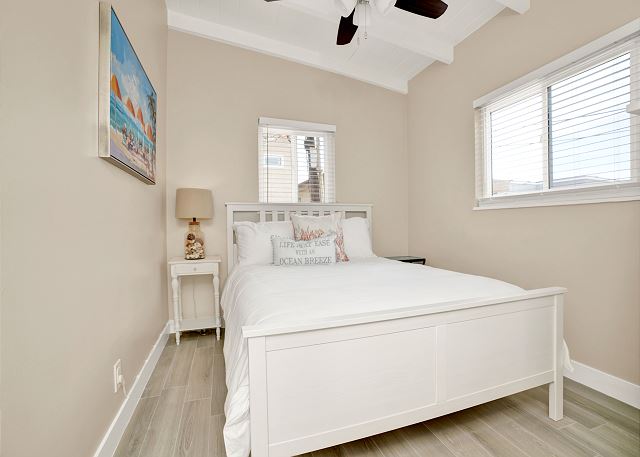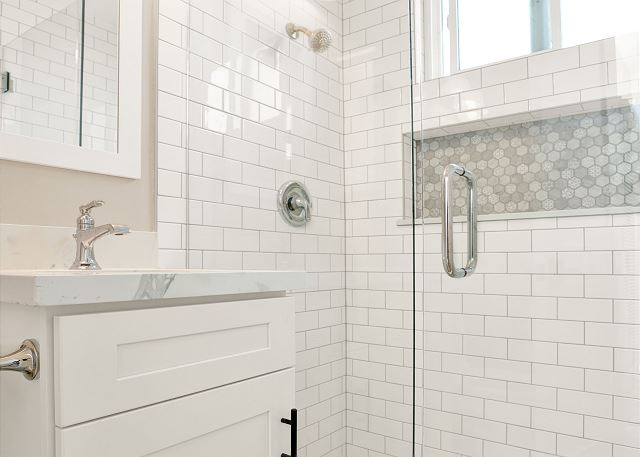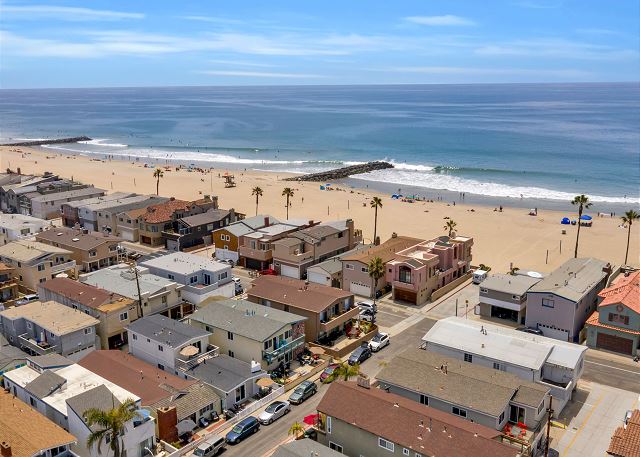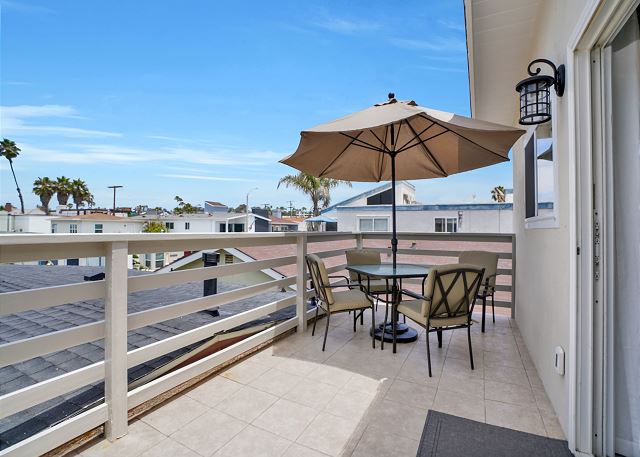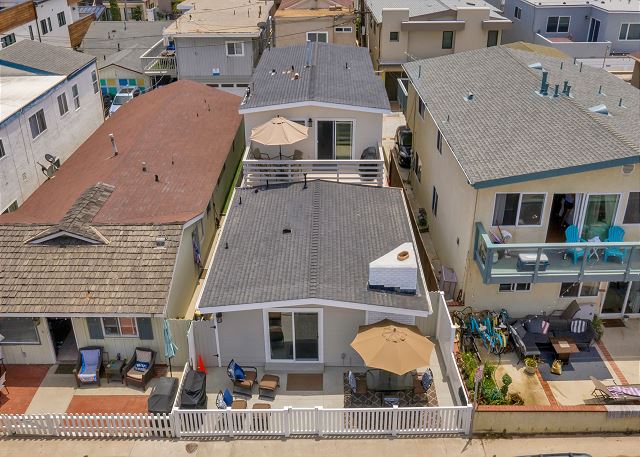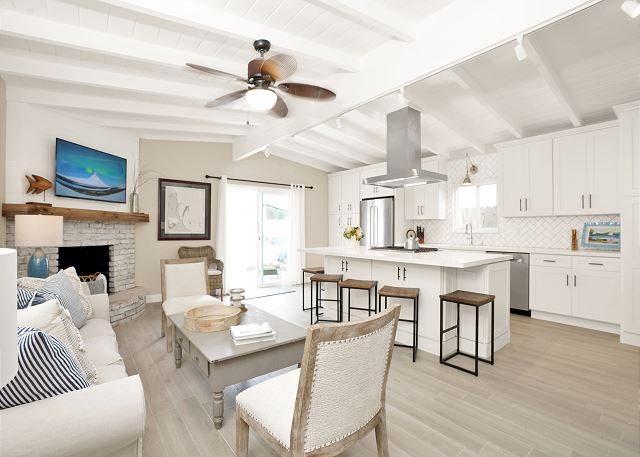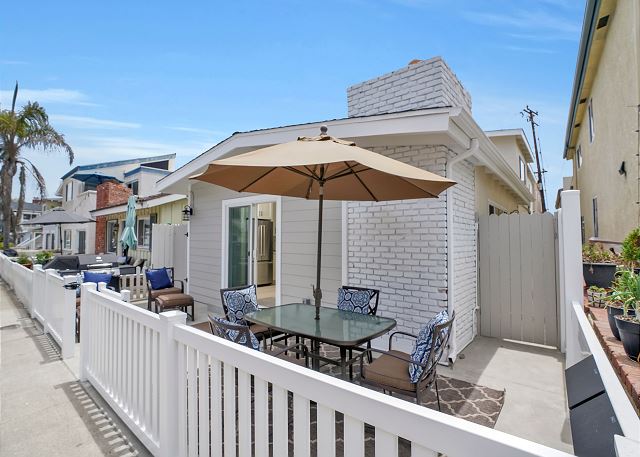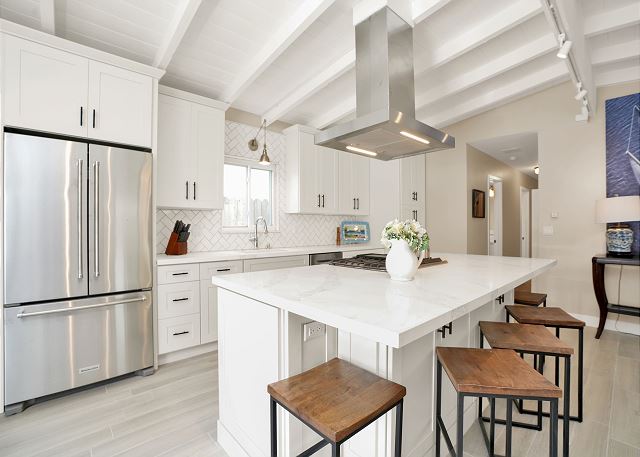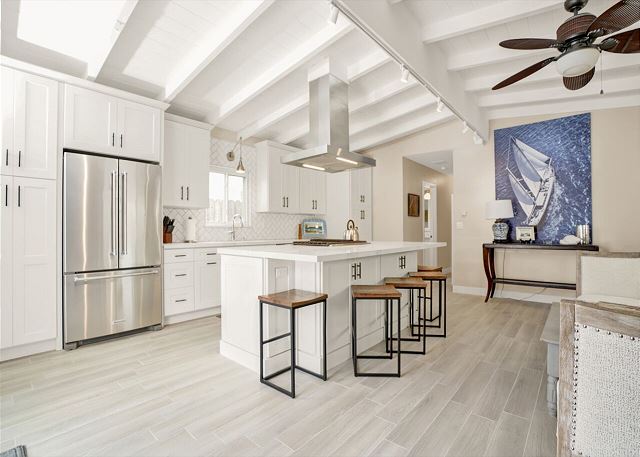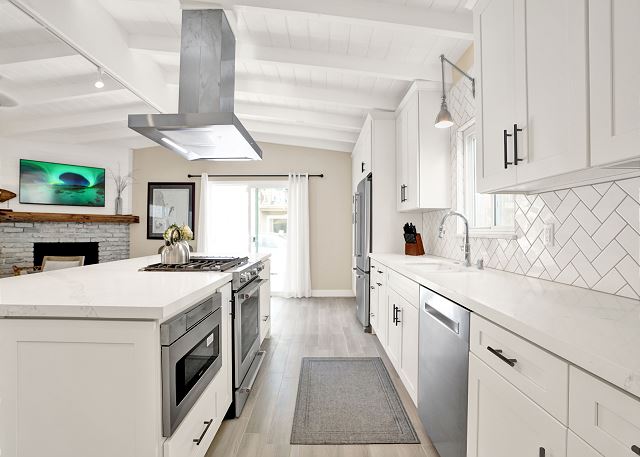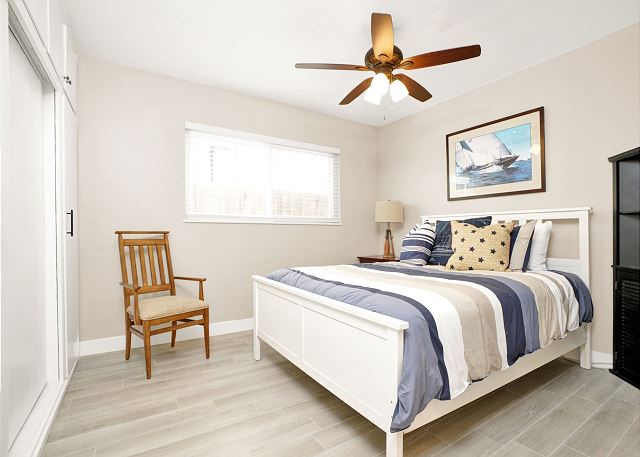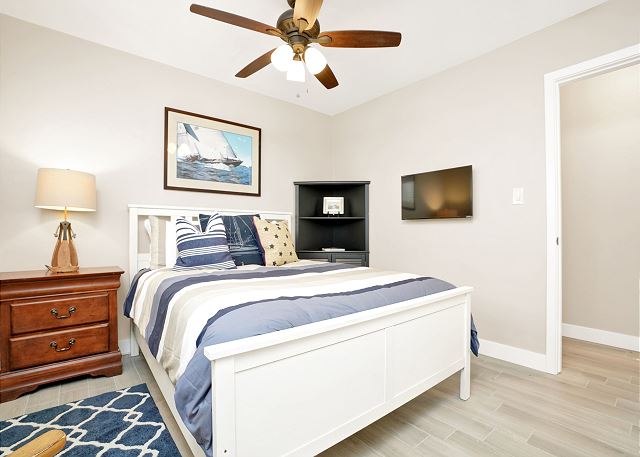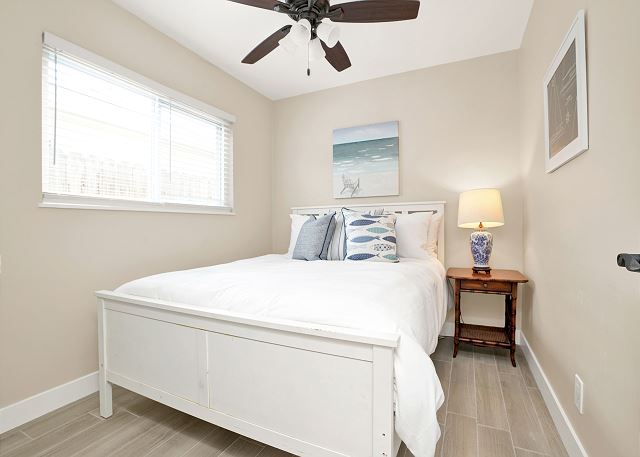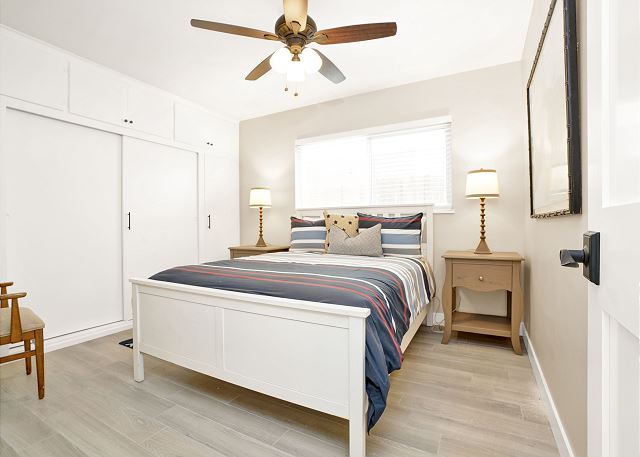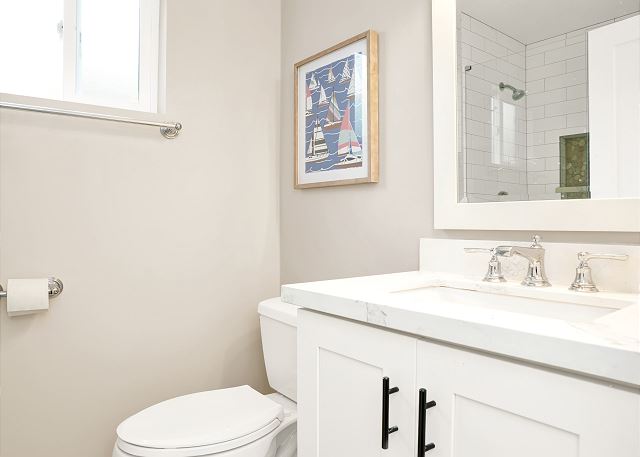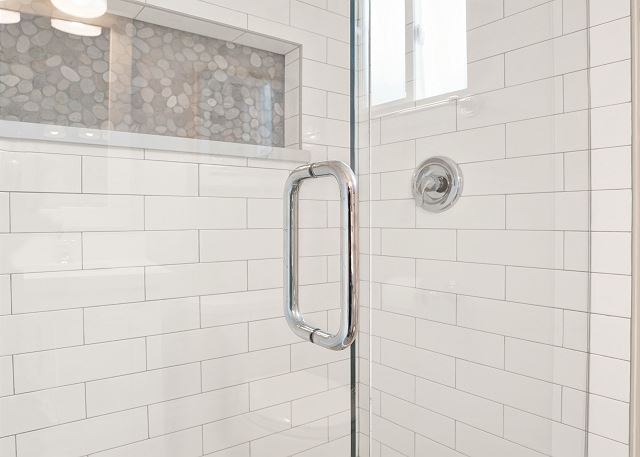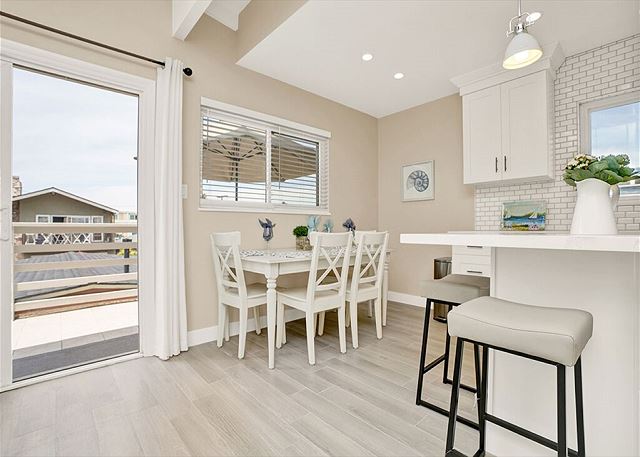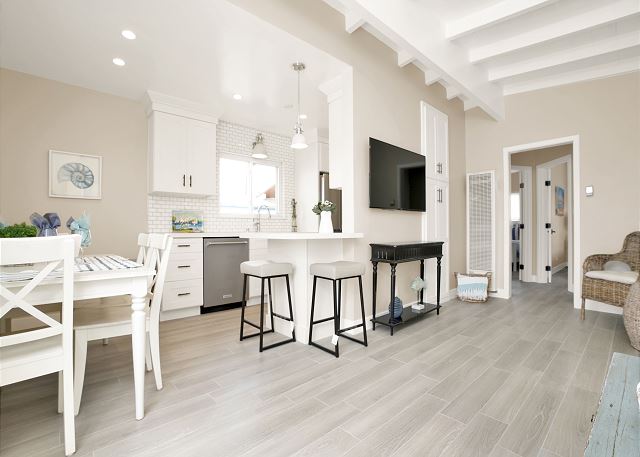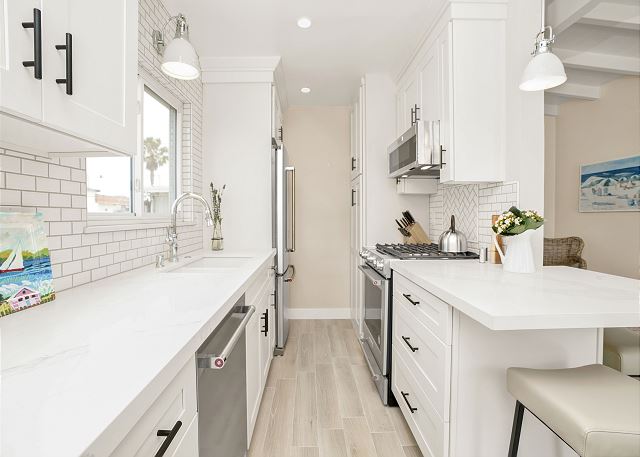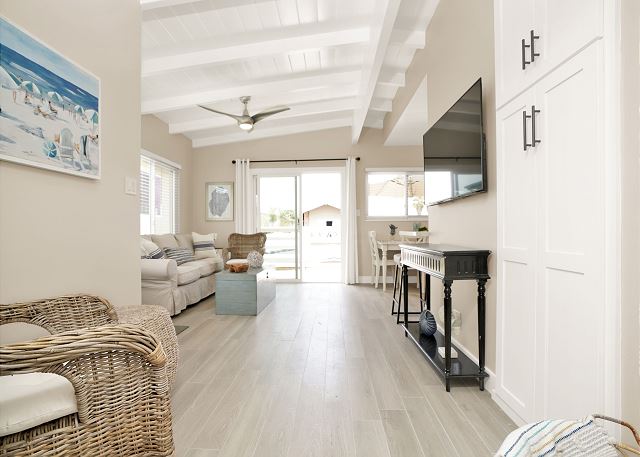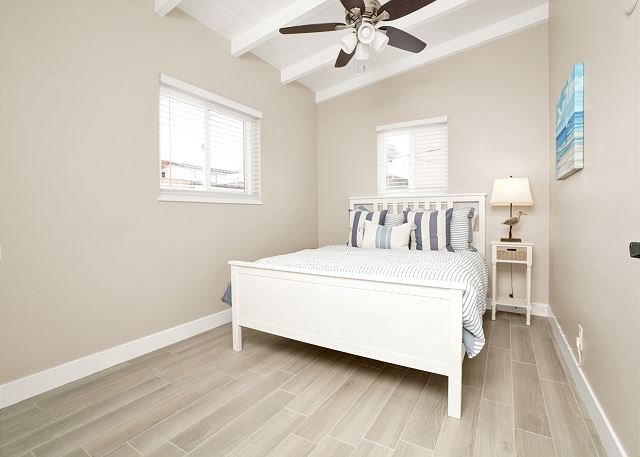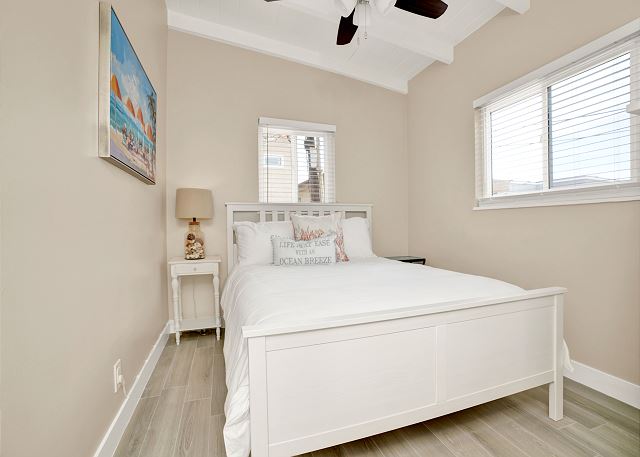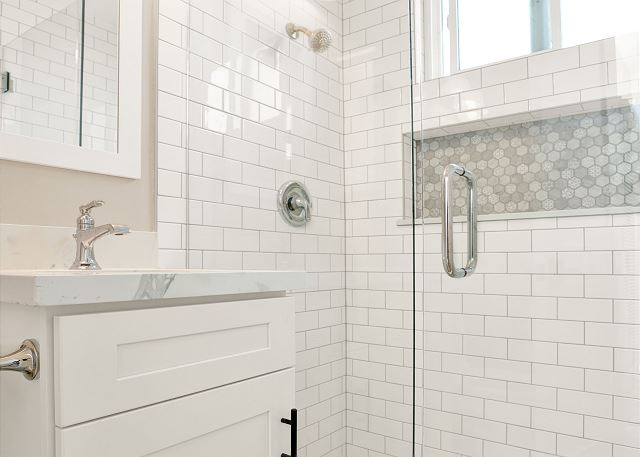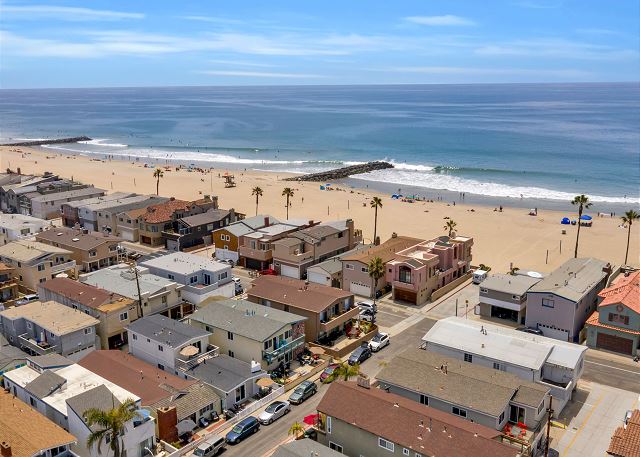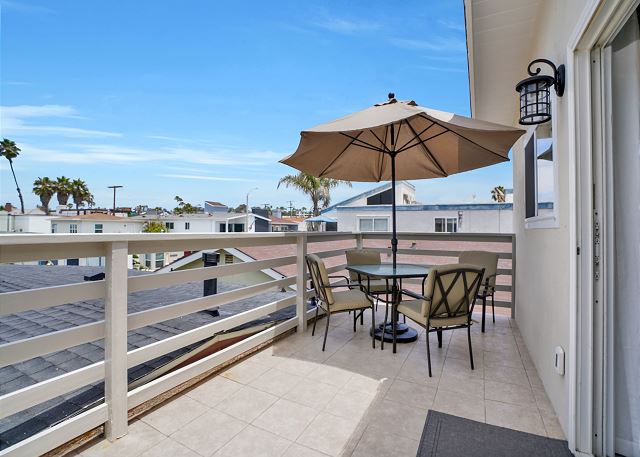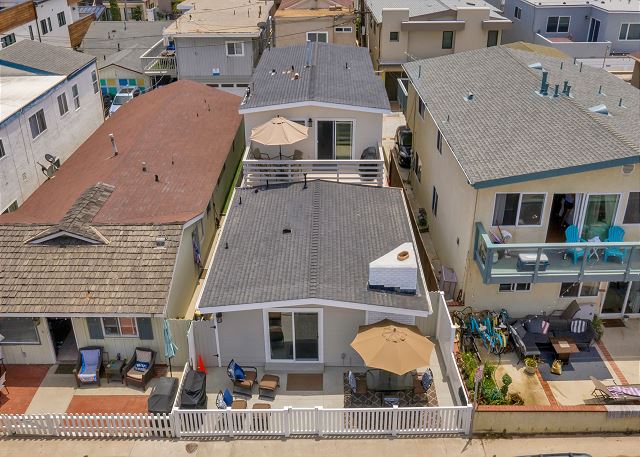 Description
Completely renovated for Summer 2019!! This terrific 5 bedroom, 3 bath combining both apartments of a duplex, has new flooring, kitchen and bathrooms! Near one of Newport's best surfing beaches and just steps to sand. The perfect beach house for a family vacation. Only 4 houses from the sand. It has been professionally decorated and fully furnished with everything you need for your home away from home.



Lower unit: Entering the front dutch door, you step into the living room with vaulted ceilings, ample seating, and a flat screen TV. Heading toward the front of the property, you will find a sliding door leading to a patio with beach views, a bbq and patio table, chairs and umbrella.



Stepping back in the property there is a quaint dining room just off of the all-white, newly remodeled galley kitchen. Stacked laundry unit is right off of the kitchen, a convenience not always found in beach homes.



Down the hall are 3 bedrooms and 2 freshly remodeled full bathrooms. 3 TV's- Living room and first 2 bedrooms.



Upper back unit: Entering the front dutch door, you step into the living room with vaulted ceilings, living area and a flat screen TV. Heading toward the front of the property, you will find a sliding door leading to a patio with a bbq, patio table, chairs and umbrella.



Stepping back in the property there is a quaint dining table just off of the all-white, newly remodeled kitchen. Stacked laundry unit is just off the living room, a convenience not always found in beach homes.



2 bedrooms and 1 freshly remodeled full bathroom.



The 2 car garage is very small and tight. It can only fit 2 SMALL cars and even then it will be tight fit. COMPACT CARS ONLY, larger cars will have to find street parking in the surrounding neighborhood streets. SLP12937 and 114 SLP12938

*Please be aware there is construction next door. City construction hours are only allowed M-F 7am-5pm
Calendar
January 2022

| S | M | T | W | T | F | S |
| --- | --- | --- | --- | --- | --- | --- |
| | | | | | | 01 |
| 02 | 03 | 04 | 05 | 06 | 07 | 08 |
| 09 | 10 | 11 | 12 | 13 | 14 | 15 |
| 16 | 17 | 18 | 19 | 20 | 21 | 22 |
| 23 | 24 | 25 | 26 | 27 | 28 | 29 |
| 30 | 31 | | | | | |
February 2022

| S | M | T | W | T | F | S |
| --- | --- | --- | --- | --- | --- | --- |
| | | 01 | 02 | 03 | 04 | 05 |
| 06 | 07 | 08 | 09 | 10 | 11 | 12 |
| 13 | 14 | 15 | 16 | 17 | 18 | 19 |
| 20 | 21 | 22 | 23 | 24 | 25 | 26 |
| 27 | 28 | | | | | |
March 2022

| S | M | T | W | T | F | S |
| --- | --- | --- | --- | --- | --- | --- |
| | | 01 | 02 | 03 | 04 | 05 |
| 06 | 07 | 08 | 09 | 10 | 11 | 12 |
| 13 | 14 | 15 | 16 | 17 | 18 | 19 |
| 20 | 21 | 22 | 23 | 24 | 25 | 26 |
| 27 | 28 | 29 | 30 | 31 | | |
April 2022

| S | M | T | W | T | F | S |
| --- | --- | --- | --- | --- | --- | --- |
| | | | | | 01 | 02 |
| 03 | 04 | 05 | 06 | 07 | 08 | 09 |
| 10 | 11 | 12 | 13 | 14 | 15 | 16 |
| 17 | 18 | 19 | 20 | 21 | 22 | 23 |
| 24 | 25 | 26 | 27 | 28 | 29 | 30 |
May 2022

| S | M | T | W | T | F | S |
| --- | --- | --- | --- | --- | --- | --- |
| 01 | 02 | 03 | 04 | 05 | 06 | 07 |
| 08 | 09 | 10 | 11 | 12 | 13 | 14 |
| 15 | 16 | 17 | 18 | 19 | 20 | 21 |
| 22 | 23 | 24 | 25 | 26 | 27 | 28 |
| 29 | 30 | 31 | | | | |
June 2022

| S | M | T | W | T | F | S |
| --- | --- | --- | --- | --- | --- | --- |
| | | | 01 | 02 | 03 | 04 |
| 05 | 06 | 07 | 08 | 09 | 10 | 11 |
| 12 | 13 | 14 | 15 | 16 | 17 | 18 |
| 19 | 20 | 21 | 22 | 23 | 24 | 25 |
| 26 | 27 | 28 | 29 | 30 | | |
July 2022

| S | M | T | W | T | F | S |
| --- | --- | --- | --- | --- | --- | --- |
| | | | | | 01 | 02 |
| 03 | 04 | 05 | 06 | 07 | 08 | 09 |
| 10 | 11 | 12 | 13 | 14 | 15 | 16 |
| 17 | 18 | 19 | 20 | 21 | 22 | 23 |
| 24 | 25 | 26 | 27 | 28 | 29 | 30 |
| 31 | | | | | | |
August 2022

| S | M | T | W | T | F | S |
| --- | --- | --- | --- | --- | --- | --- |
| | 01 | 02 | 03 | 04 | 05 | 06 |
| 07 | 08 | 09 | 10 | 11 | 12 | 13 |
| 14 | 15 | 16 | 17 | 18 | 19 | 20 |
| 21 | 22 | 23 | 24 | 25 | 26 | 27 |
| 28 | 29 | 30 | 31 | | | |
September 2022

| S | M | T | W | T | F | S |
| --- | --- | --- | --- | --- | --- | --- |
| | | | | 01 | 02 | 03 |
| 04 | 05 | 06 | 07 | 08 | 09 | 10 |
| 11 | 12 | 13 | 14 | 15 | 16 | 17 |
| 18 | 19 | 20 | 21 | 22 | 23 | 24 |
| 25 | 26 | 27 | 28 | 29 | 30 | |
October 2022

| S | M | T | W | T | F | S |
| --- | --- | --- | --- | --- | --- | --- |
| | | | | | | 01 |
| 02 | 03 | 04 | 05 | 06 | 07 | 08 |
| 09 | 10 | 11 | 12 | 13 | 14 | 15 |
| 16 | 17 | 18 | 19 | 20 | 21 | 22 |
| 23 | 24 | 25 | 26 | 27 | 28 | 29 |
| 30 | 31 | | | | | |
November 2022

| S | M | T | W | T | F | S |
| --- | --- | --- | --- | --- | --- | --- |
| | | 01 | 02 | 03 | 04 | 05 |
| 06 | 07 | 08 | 09 | 10 | 11 | 12 |
| 13 | 14 | 15 | 16 | 17 | 18 | 19 |
| 20 | 21 | 22 | 23 | 24 | 25 | 26 |
| 27 | 28 | 29 | 30 | | | |
December 2022

| S | M | T | W | T | F | S |
| --- | --- | --- | --- | --- | --- | --- |
| | | | | 01 | 02 | 03 |
| 04 | 05 | 06 | 07 | 08 | 09 | 10 |
| 11 | 12 | 13 | 14 | 15 | 16 | 17 |
| 18 | 19 | 20 | 21 | 22 | 23 | 24 |
| 25 | 26 | 27 | 28 | 29 | 30 | 31 |
Available
Unavailable
Check-In Only
Check-Out Only
Seasonal Rates
| Date Range | Daily | Weekly | Monthly |
| --- | --- | --- | --- |
| 01/03/2022 - 04/07/2022 | $958.15 | $5,121.16 | $18,292.21 |
| 04/08/2022 - 04/24/2022 | $992.58 | $6,451.99 | N/A |
| 04/25/2022 - 05/26/2022 | $863.84 | $4,862.33 | $18,241.91 |
| 05/27/2022 - 06/16/2022 | $931.08 | $5,739.42 | N/A |
| 06/17/2022 - 08/13/2022 | N/A | $8,197.79 | N/A |
| 08/14/2022 - 09/10/2022 | N/A | $6,508.58 | N/A |
| 09/12/2022 - 11/22/2022 | $1,446.82 | $7,427.59 | $21,501.93 |
| 11/23/2022 - 11/27/2022 | $1,598.77 | N/A | N/A |
| 12/21/2022 - 01/01/2023 | $1,643.83 | $10,055.72 | N/A |
| 01/02/2023 - 03/30/2023 | $1,043.38 | $6,003.49 | N/A |
* Seasonal rates are only estimates and do not reflect taxes or additional fees.
Location
Guest Reviews of
114 42nd Street
Newport Beach, CA
---
Vacation Rental Reviews by
stars based on
Family reunion
Review by
The whole process was easy and wonderful!The property did not look like a rental, it looked like a home.
5 out of 5 stars
Manager Response:
Hi Darla, We're honored to have hosted your family reunion and that you enjoyed your entire experience. Thanks so much! - NBVP Team
Great Girls Weekend!
Review by
Laura W.
Our stay this past weekend was wonderful. This unit was absolutely beautiful. We were in Newport for a girls weekend. We were worried when the forecast called for rain all weekend, but this unit was so comfy and inviting that we completely loved hanging out and sharing the time together. Only thing we all agreed should be changed is MORE MIRRORS! Only mirrors were above the bathroom sinks which is not enough for 10 women!
5 out of 5 stars
Manager Response:
Hi Laura, We are so happy to hear that you had a wonderful girls weekend and we were honored to be your hosts! We take all feedback to heart and truly appreciate your idea to add more mirrors. We hope you girls make this a fun tradition. Thanks so much! - NBVP Team
Contact Us