218 Onyx Ave. (House)
4 Bedroom(s) | 4 Bathroom(s) | Sleeps 8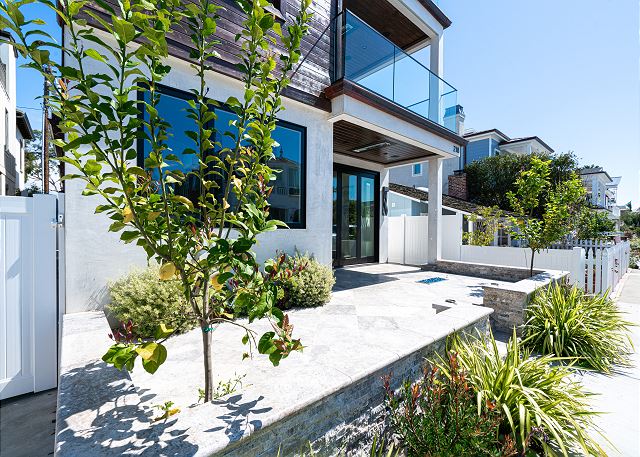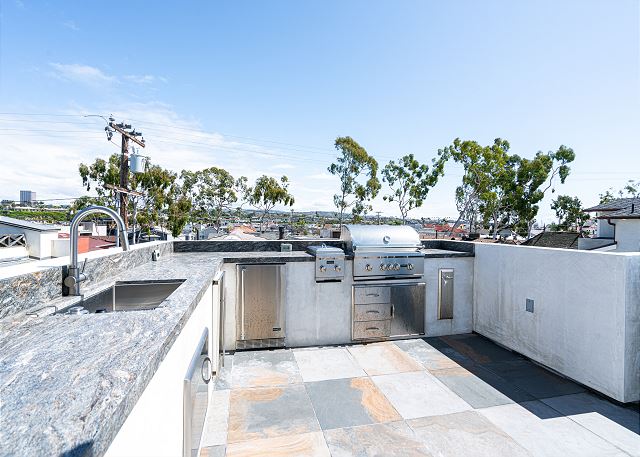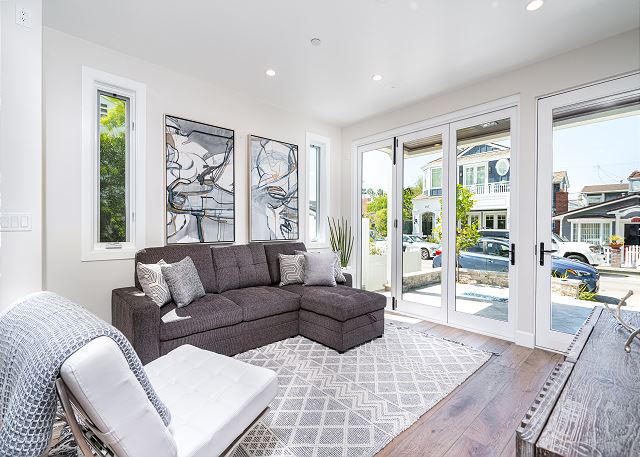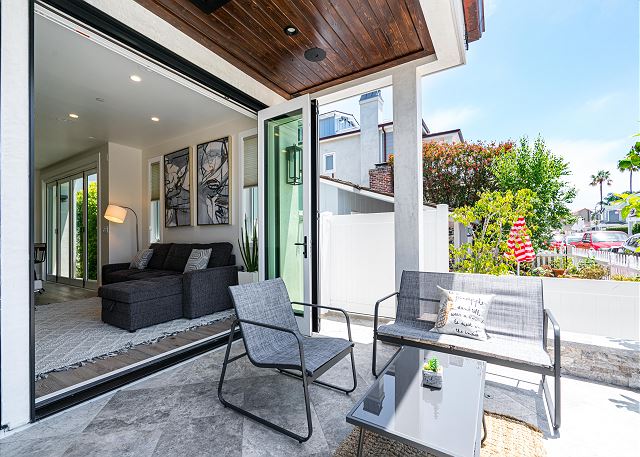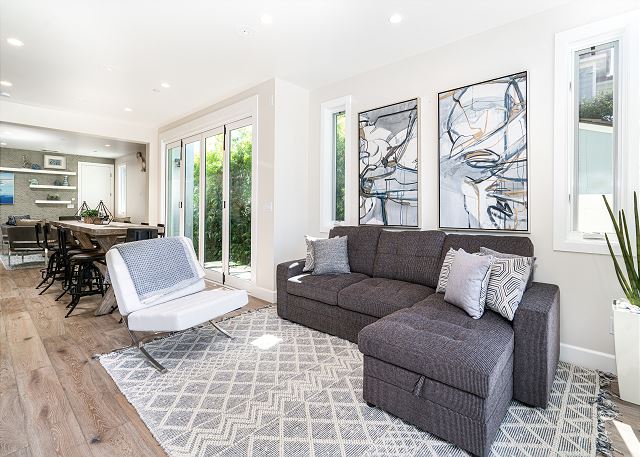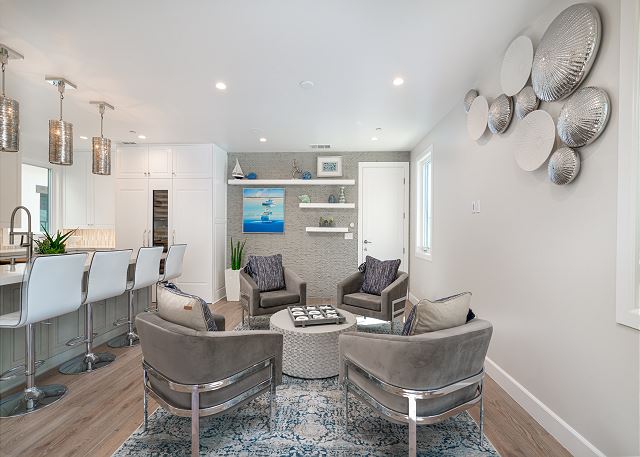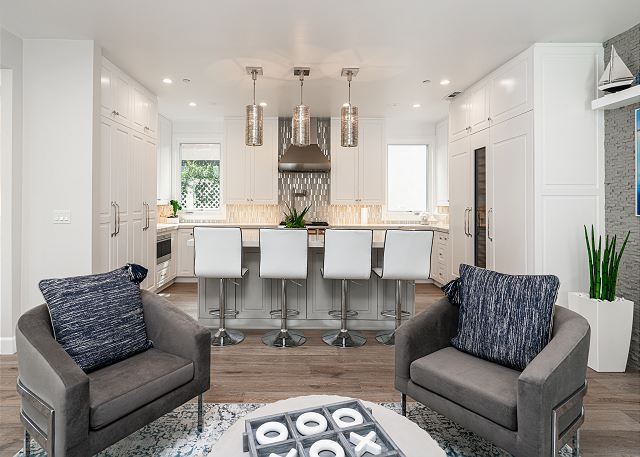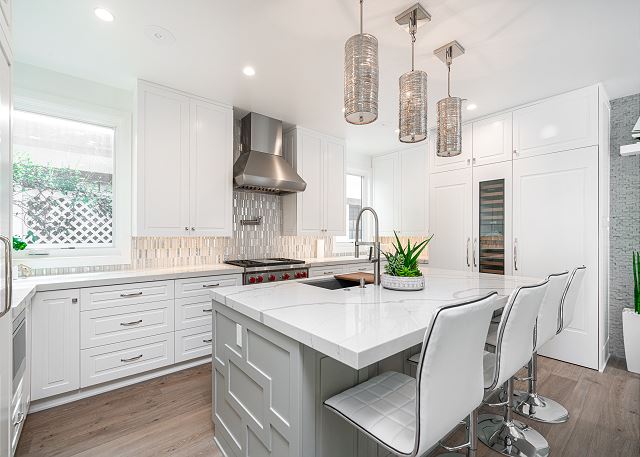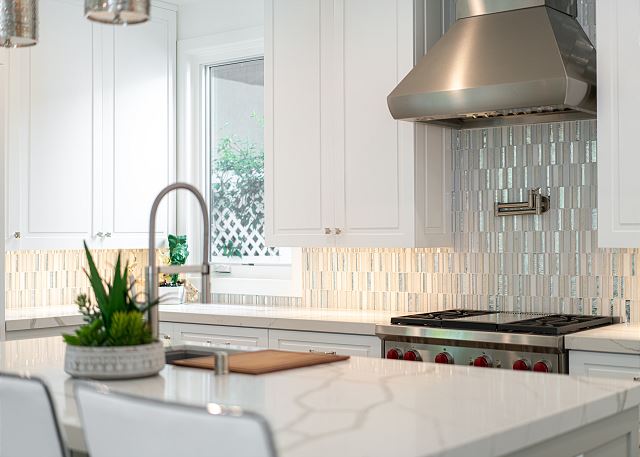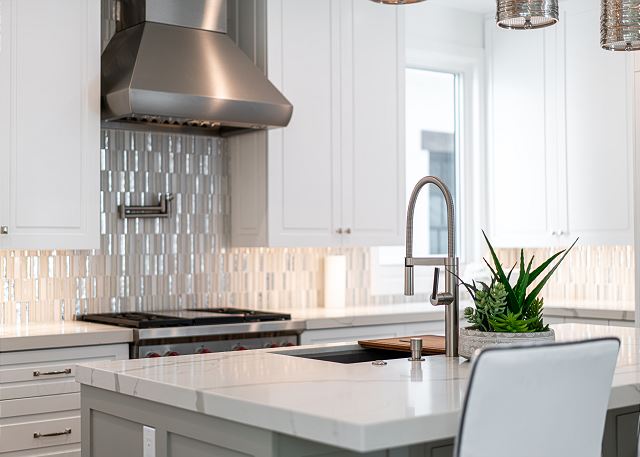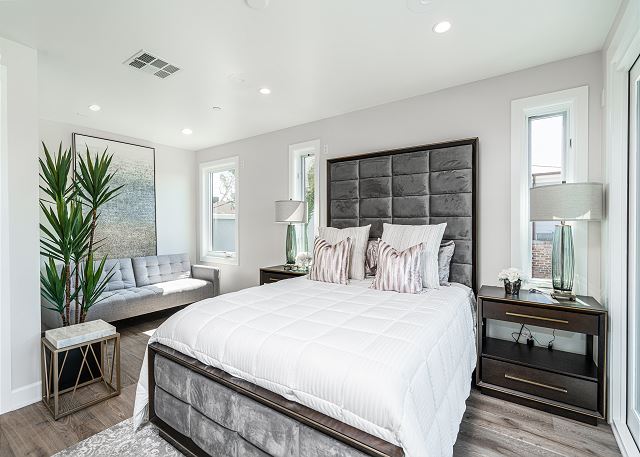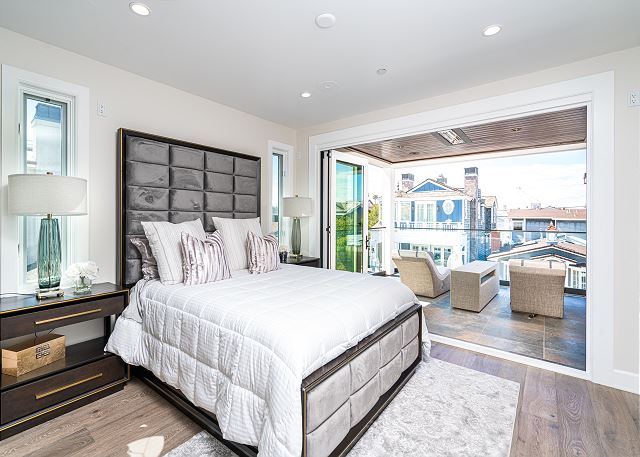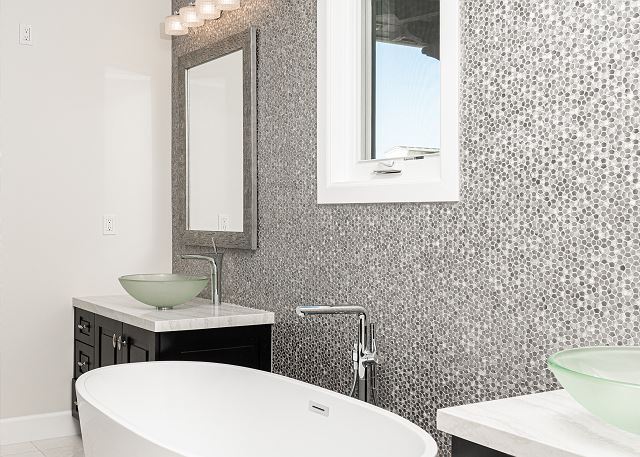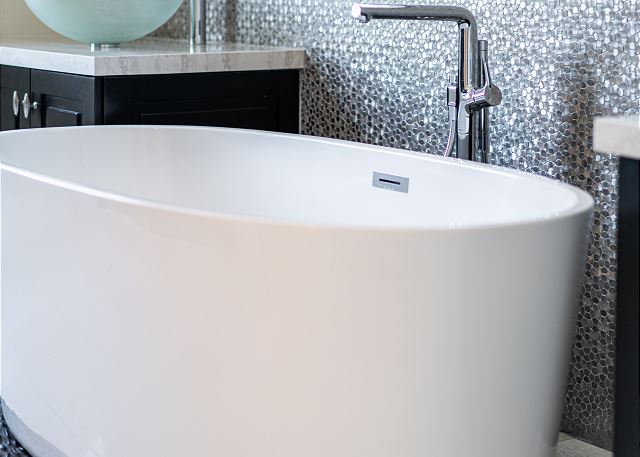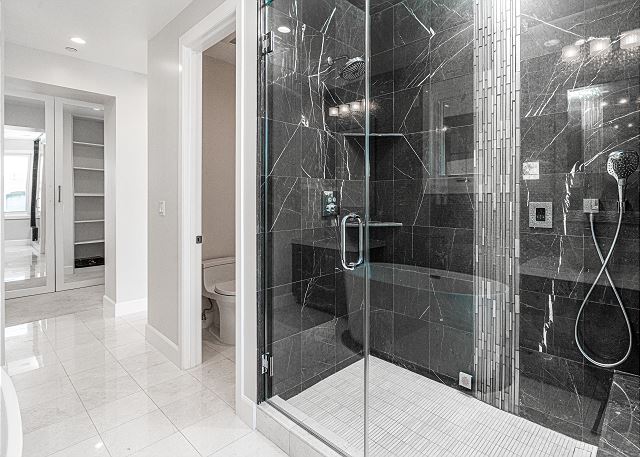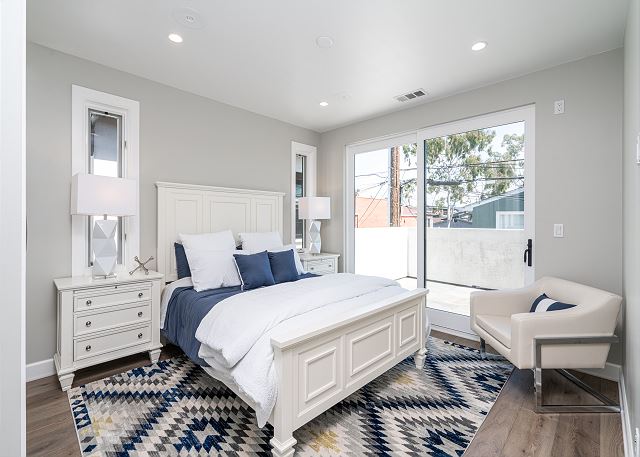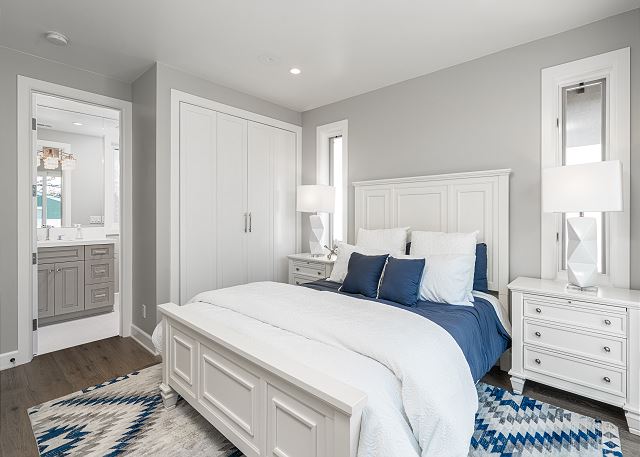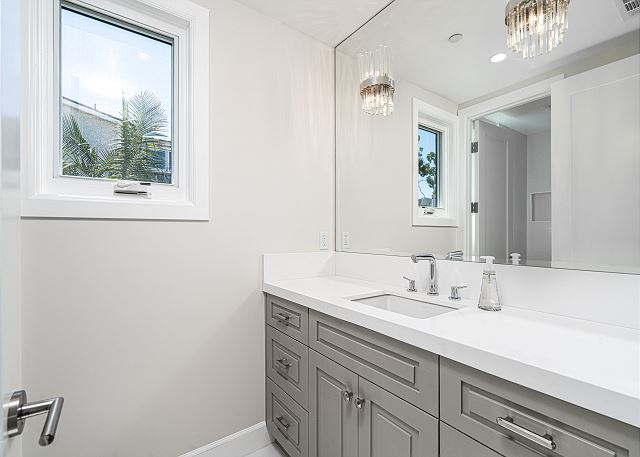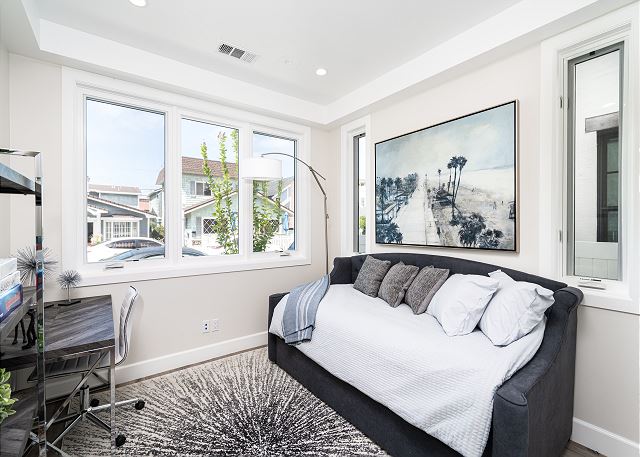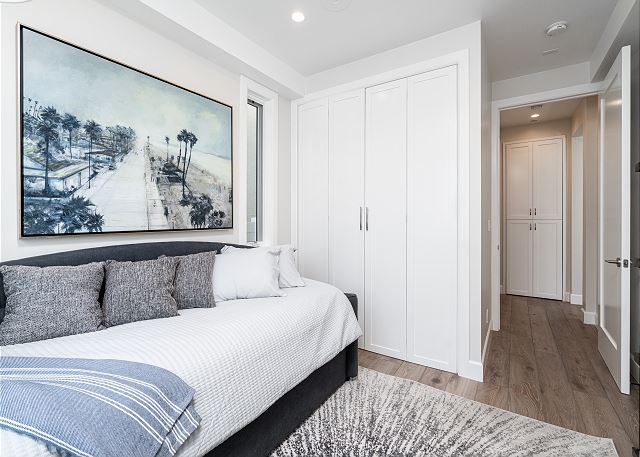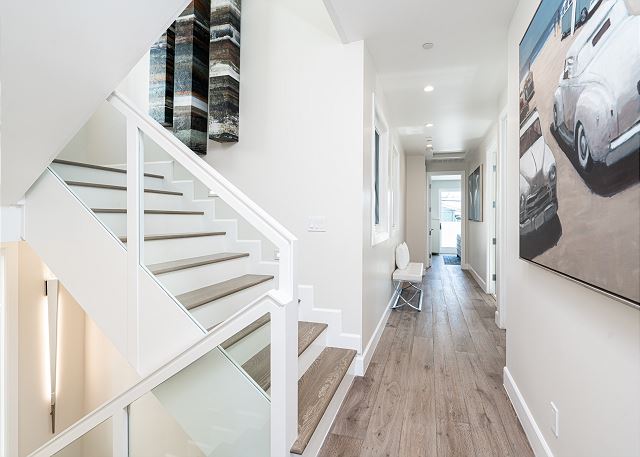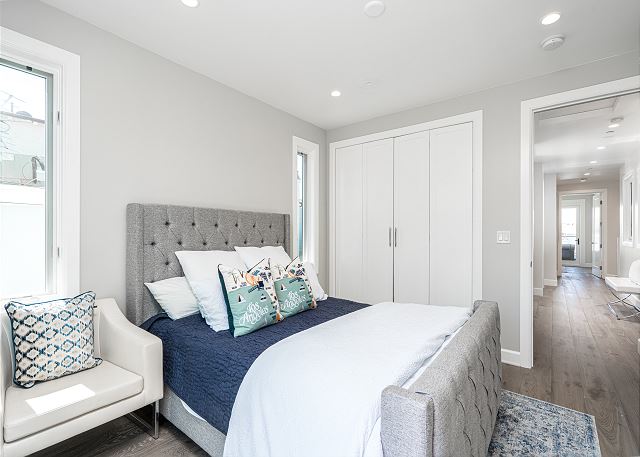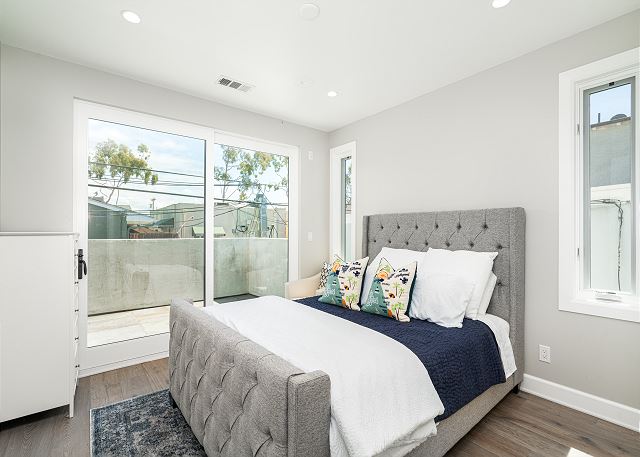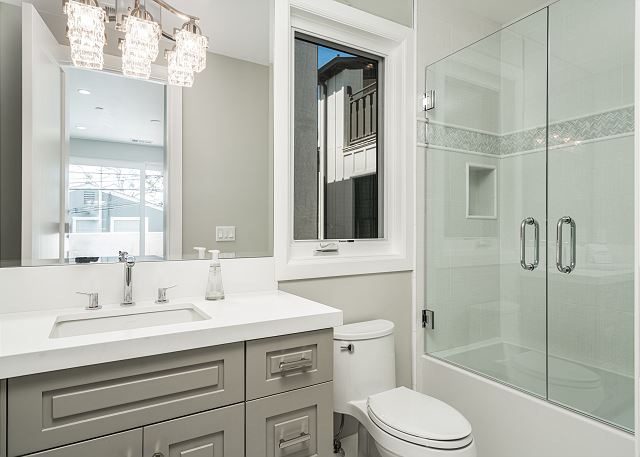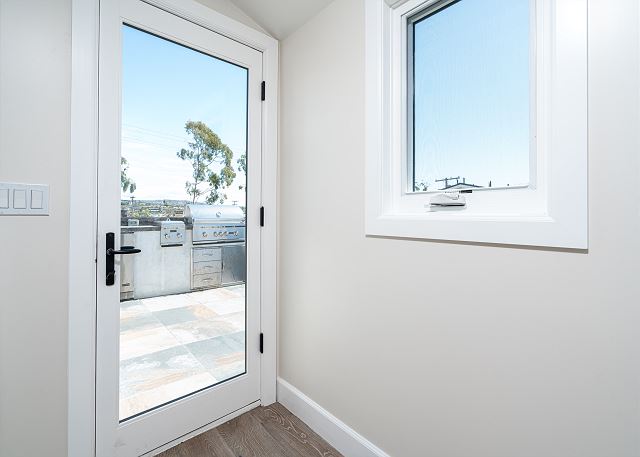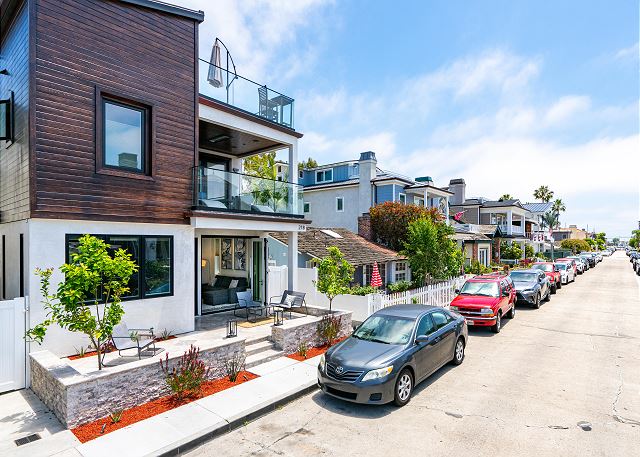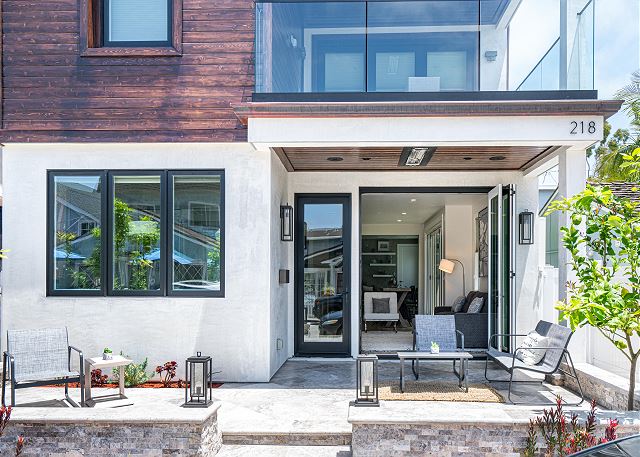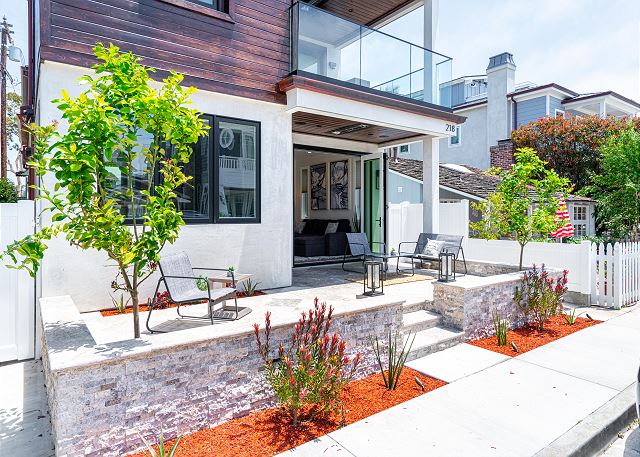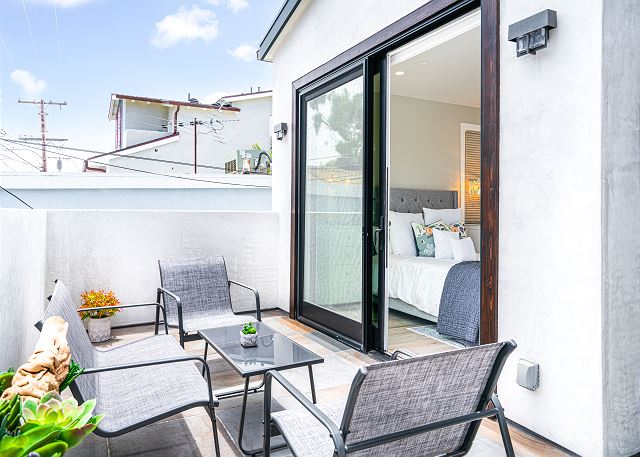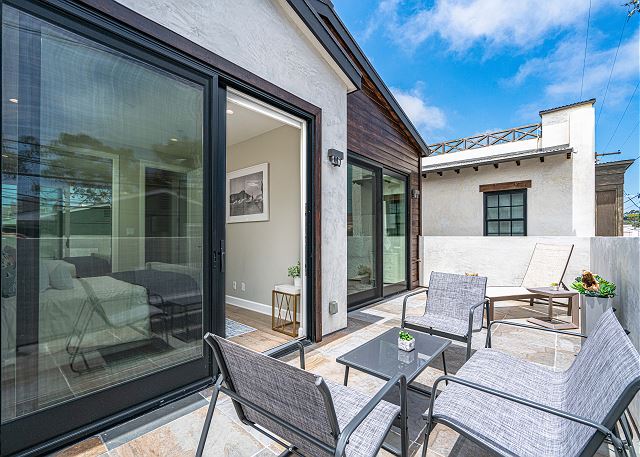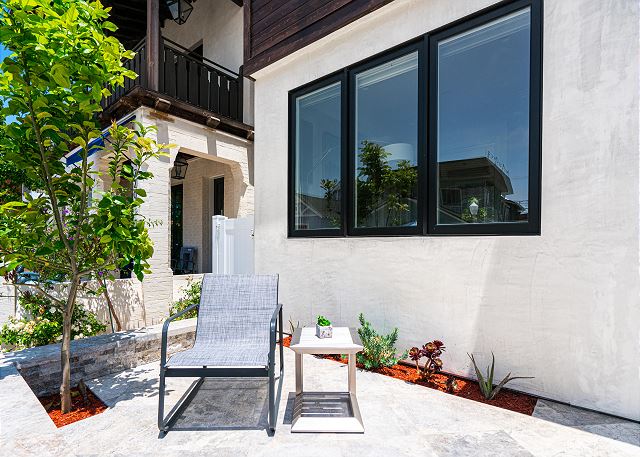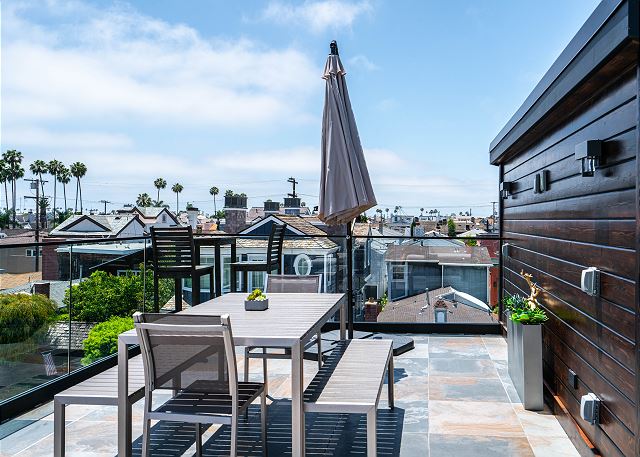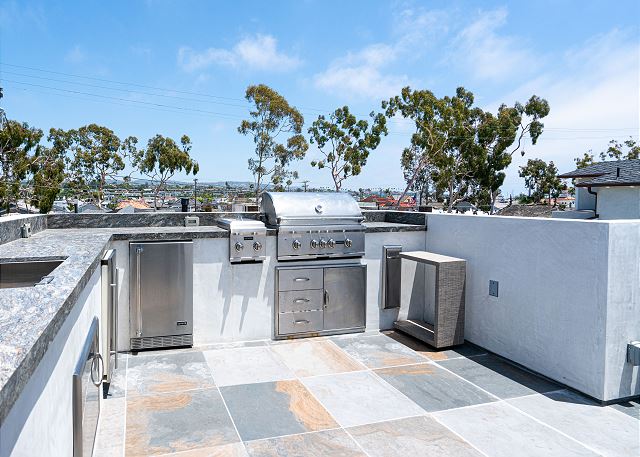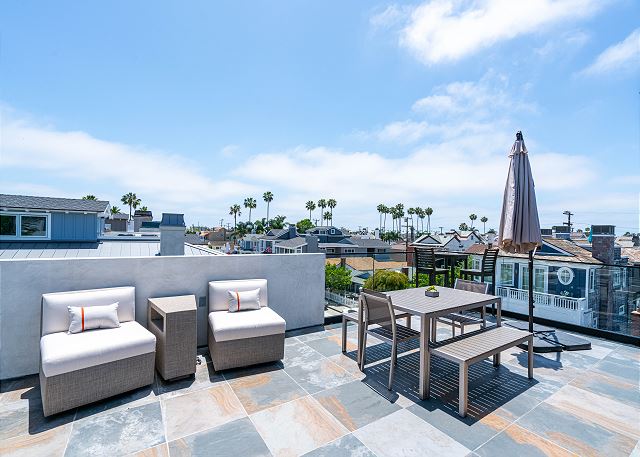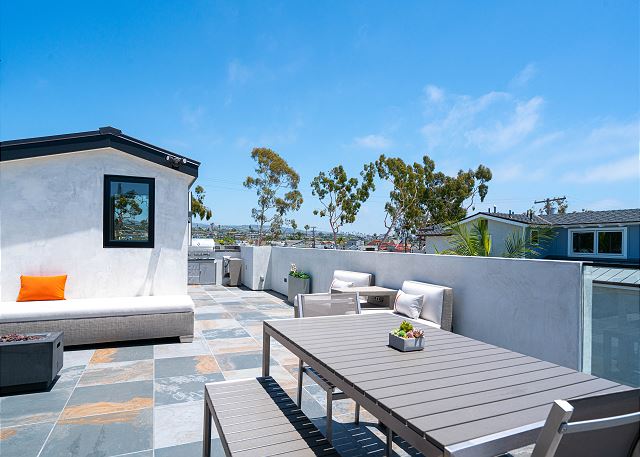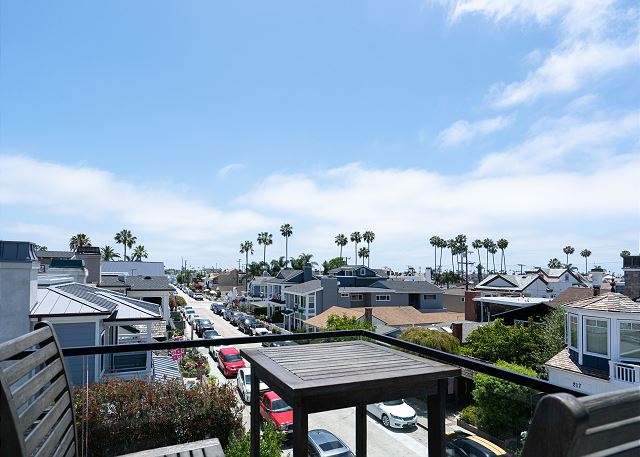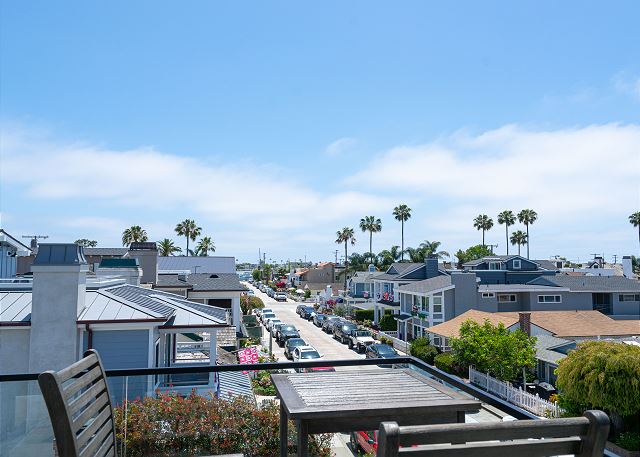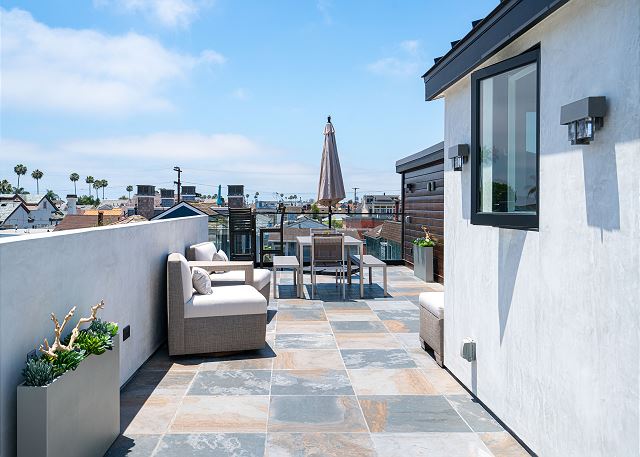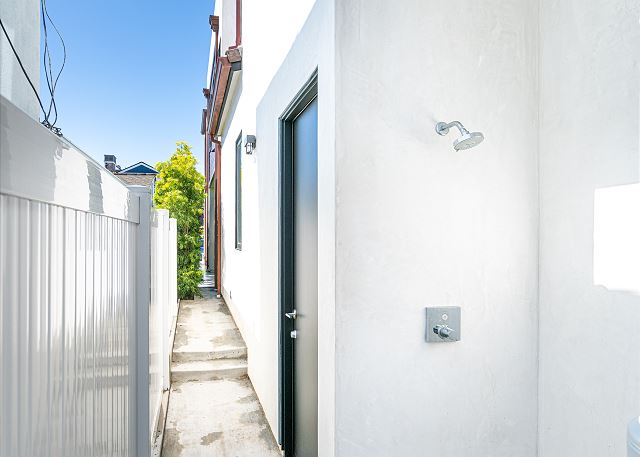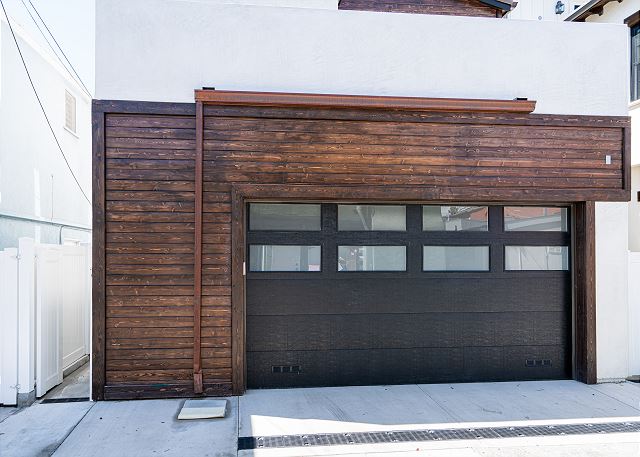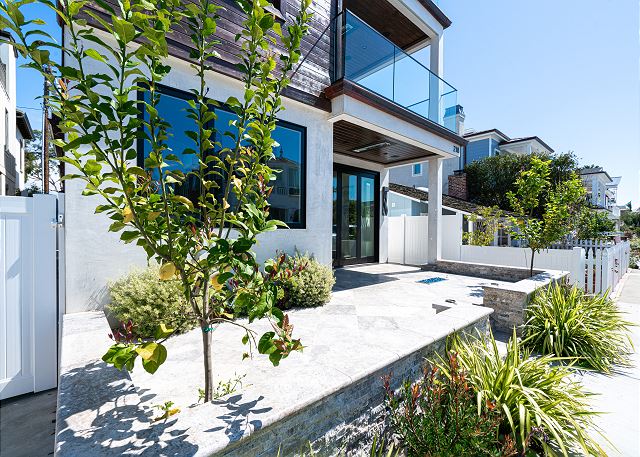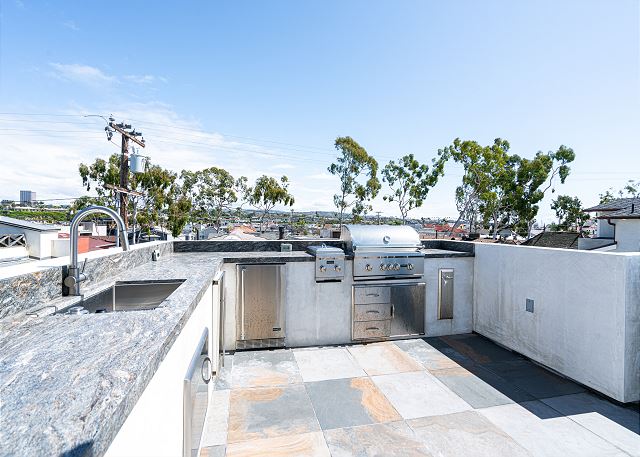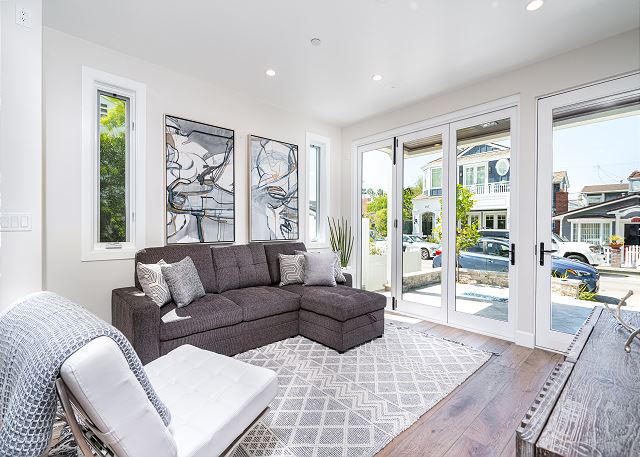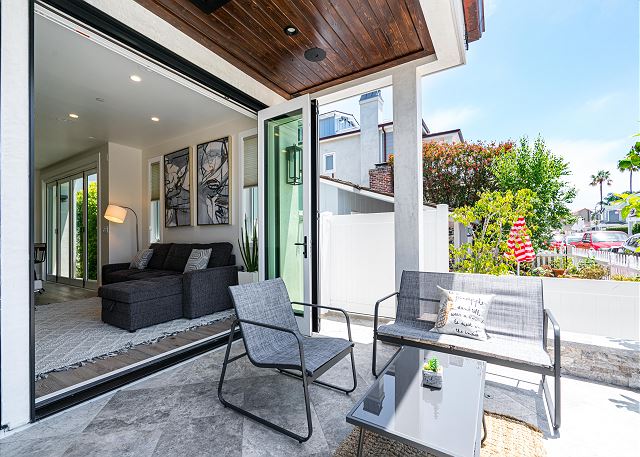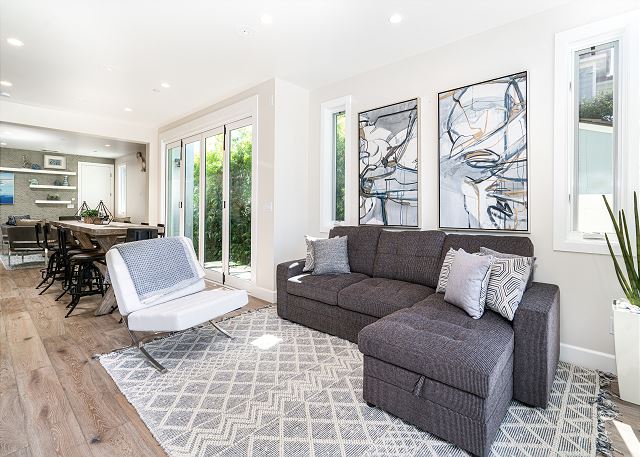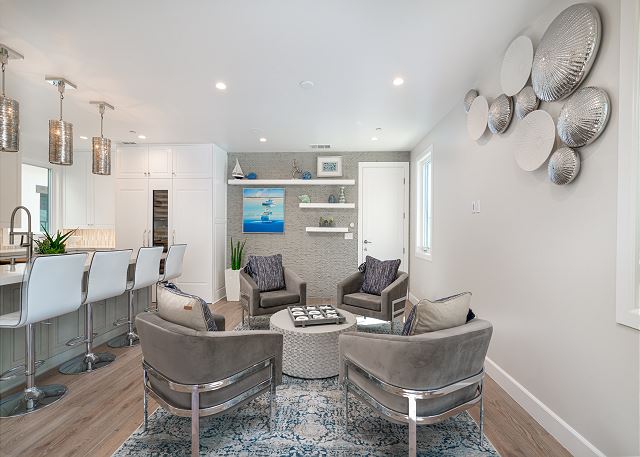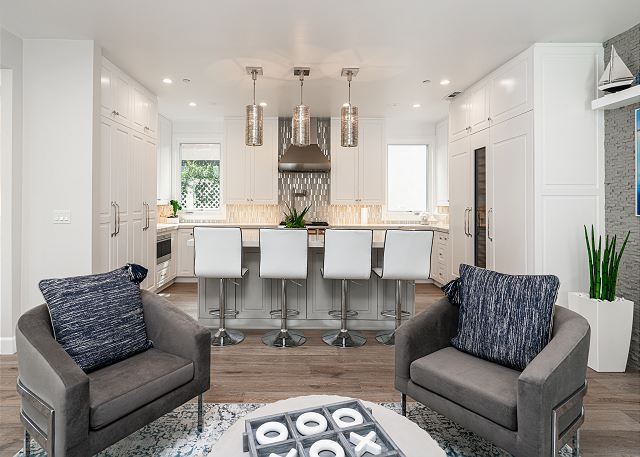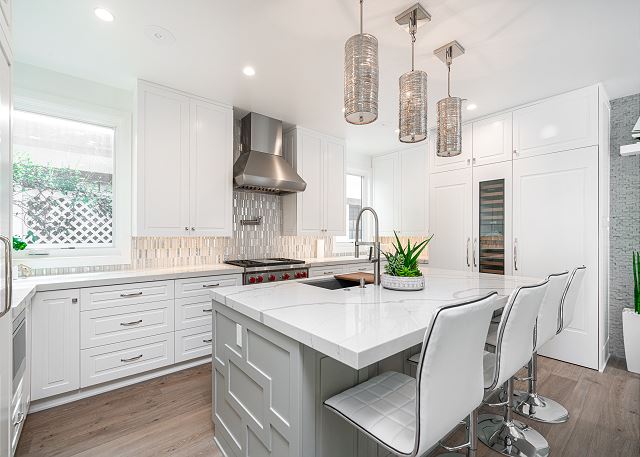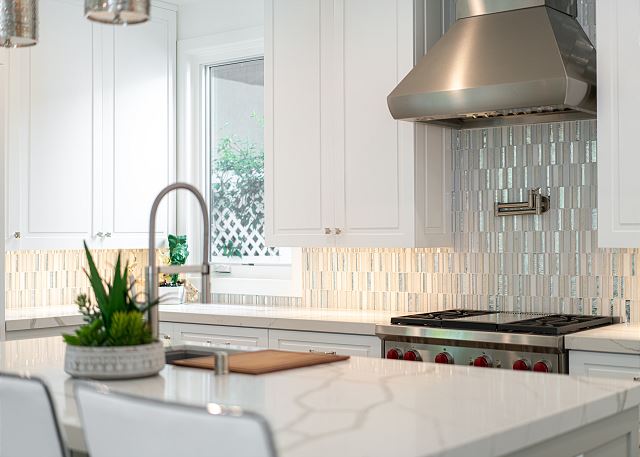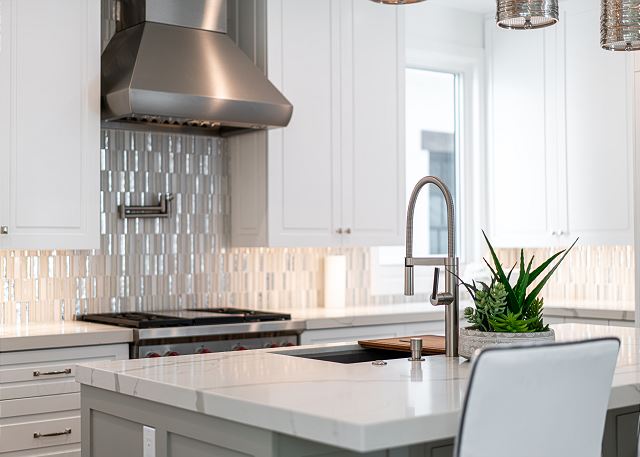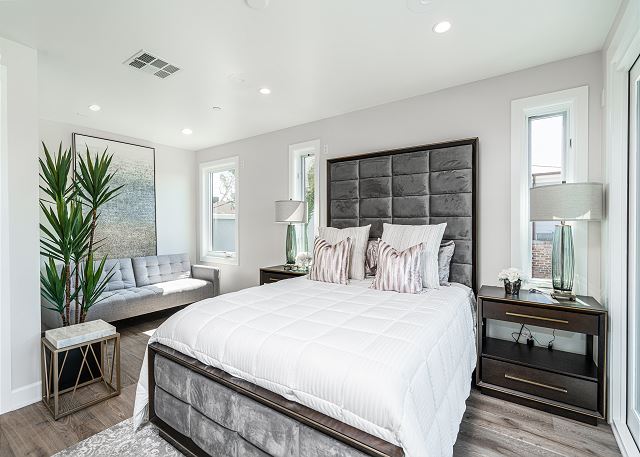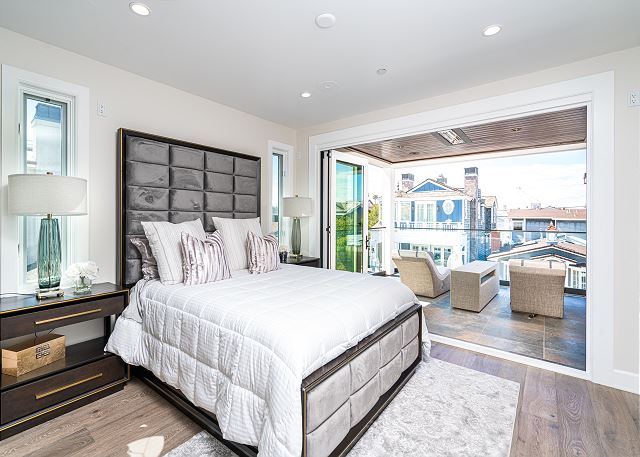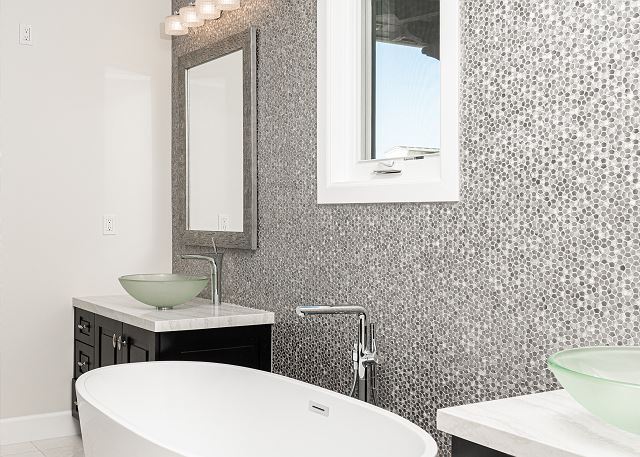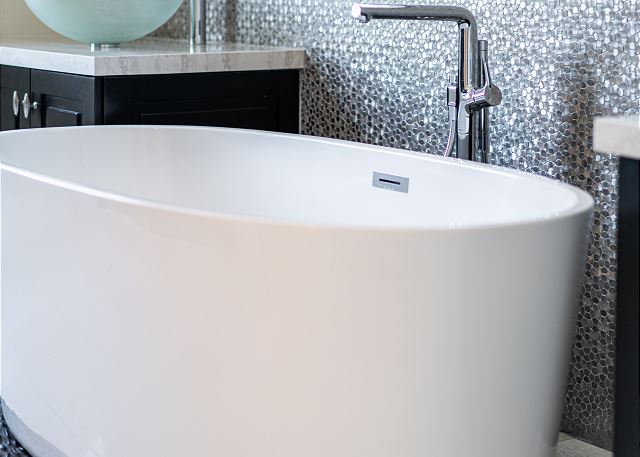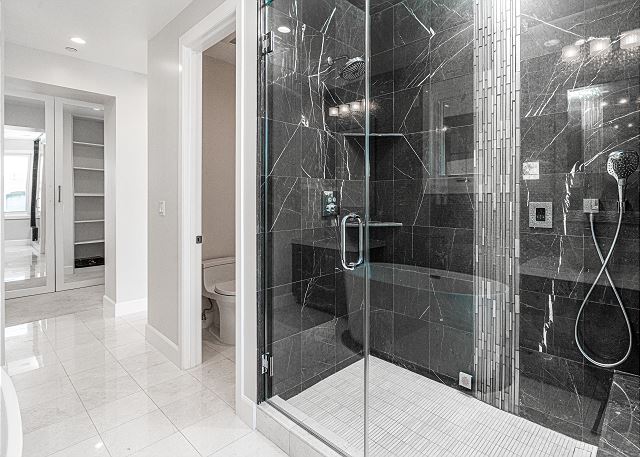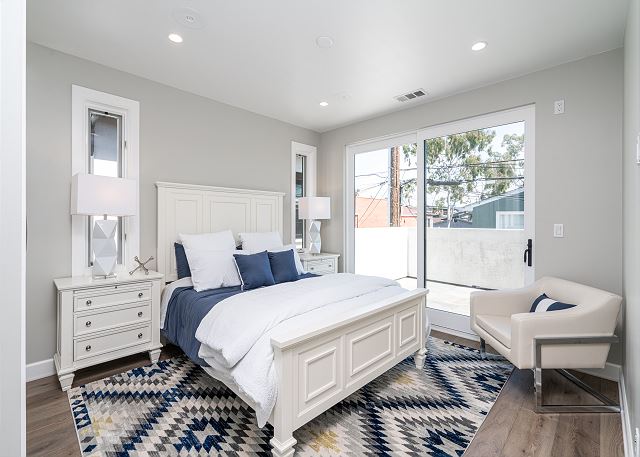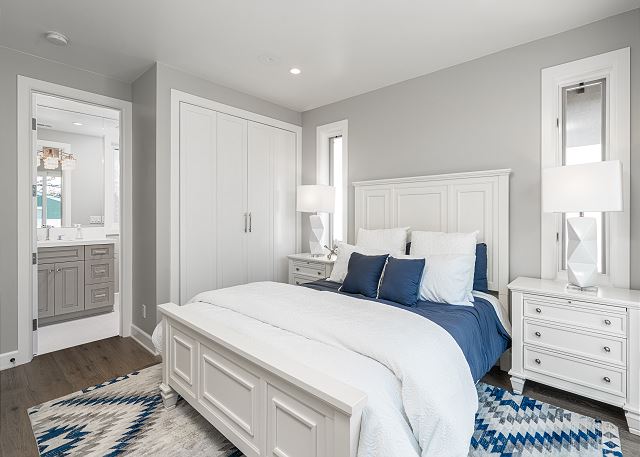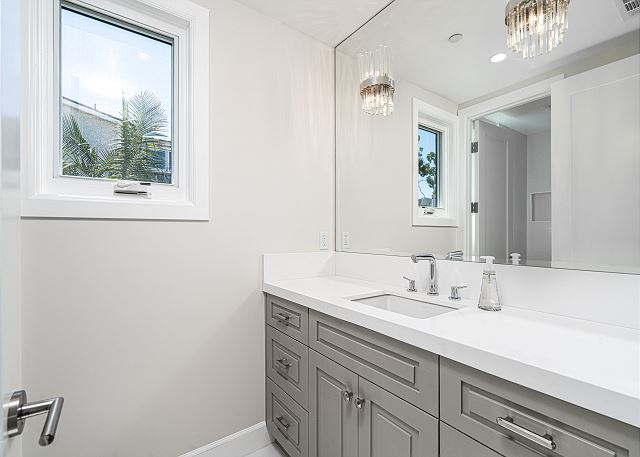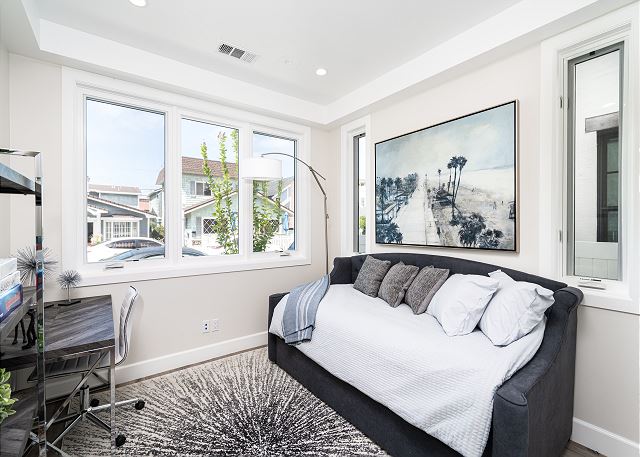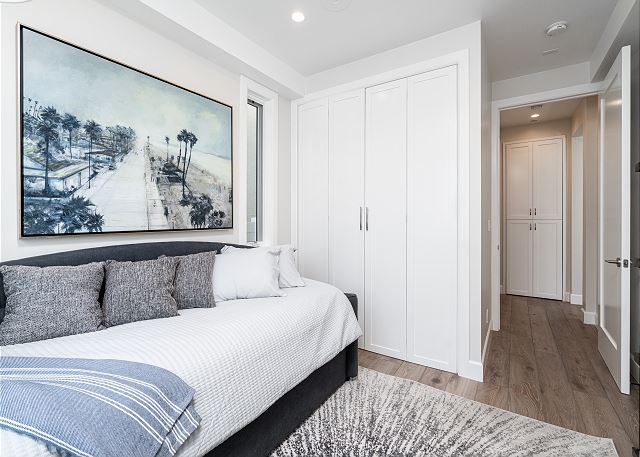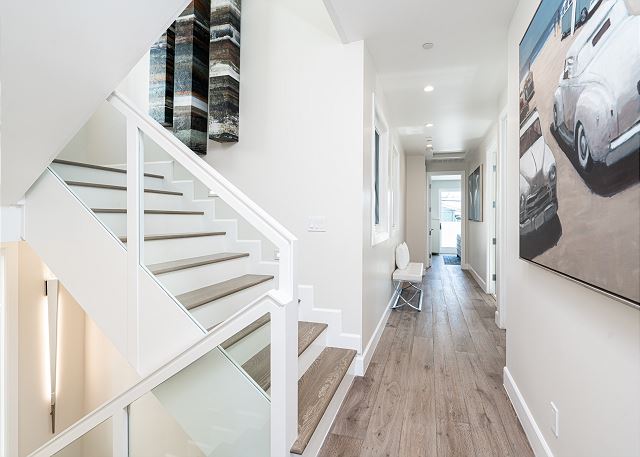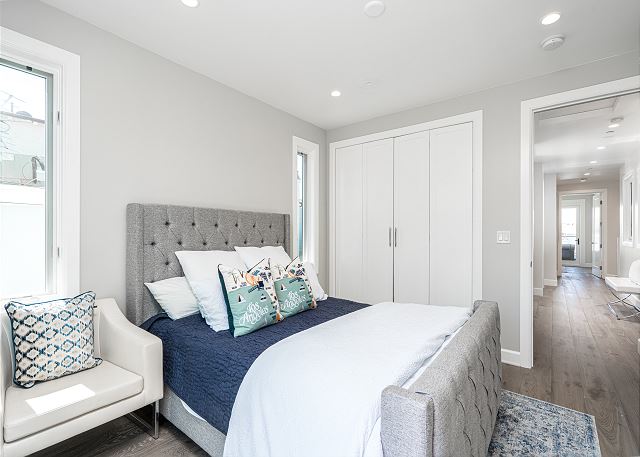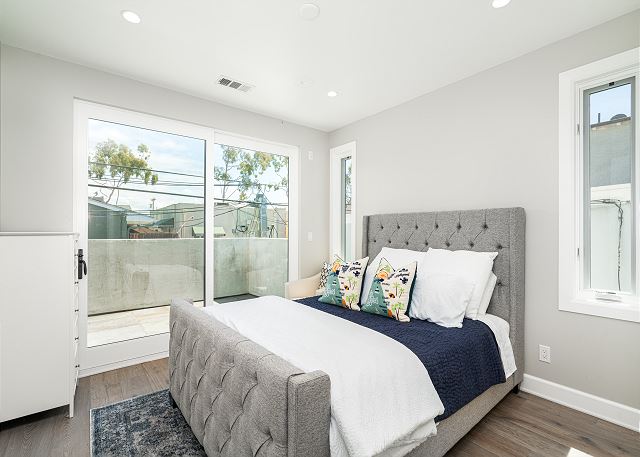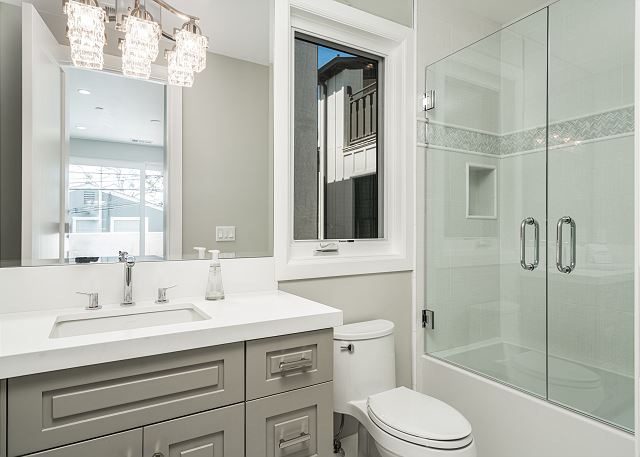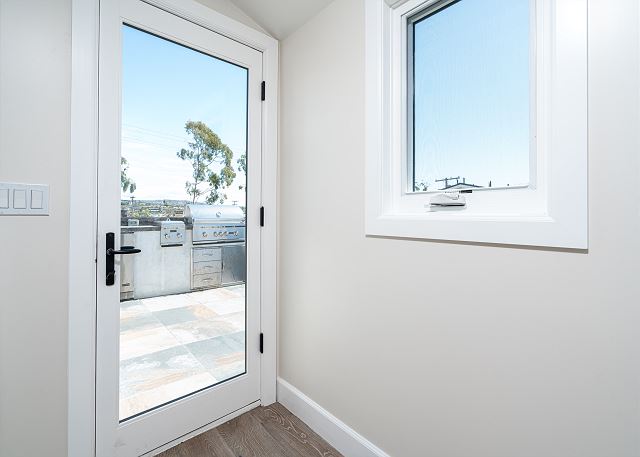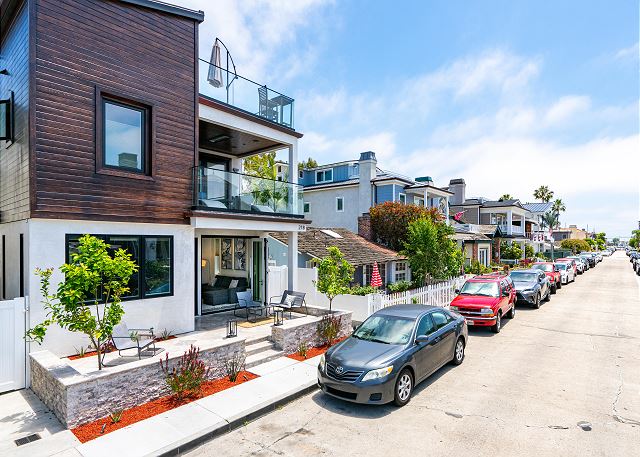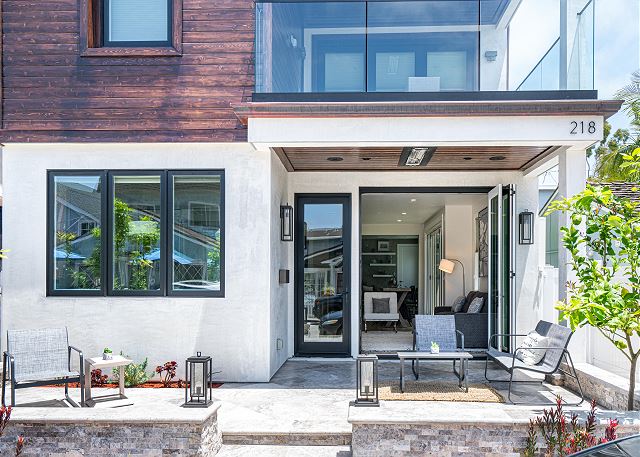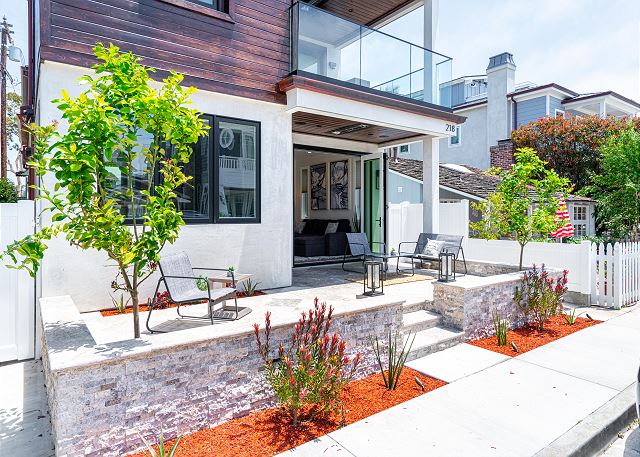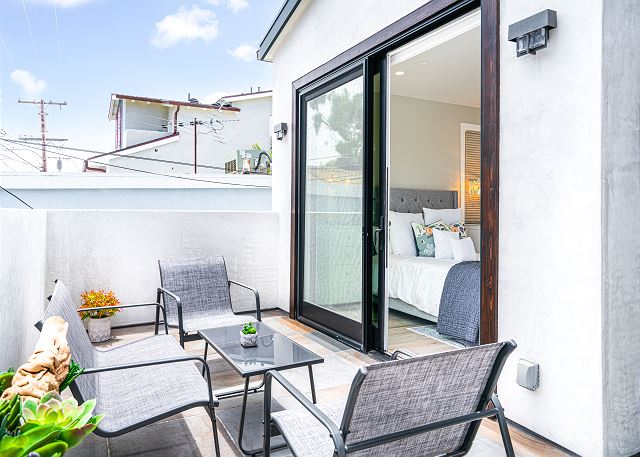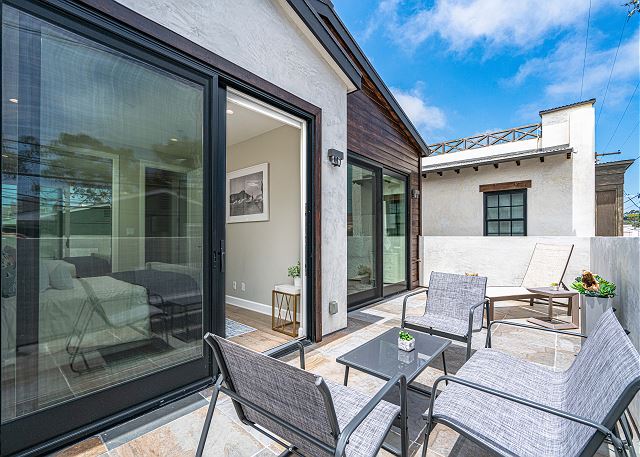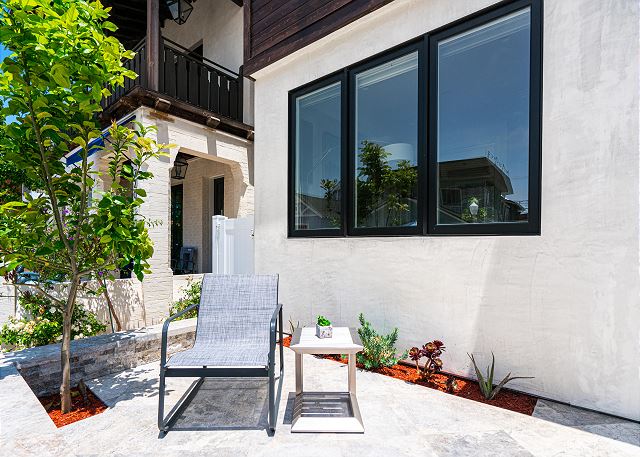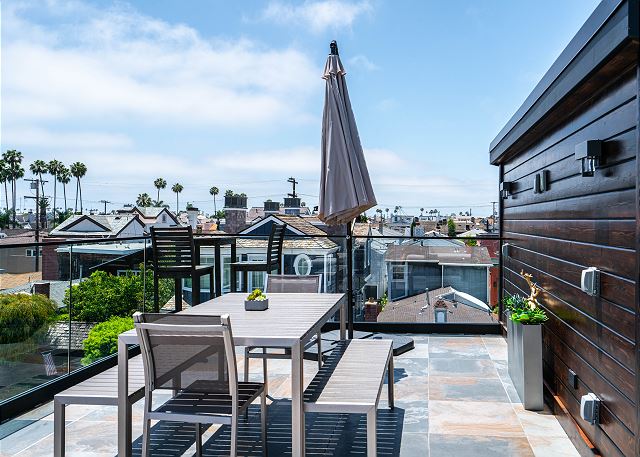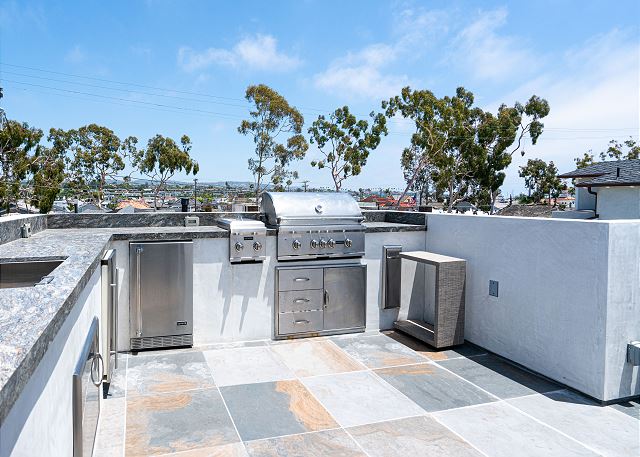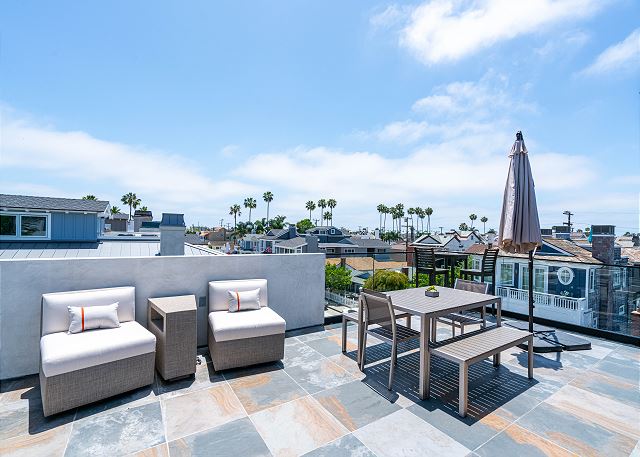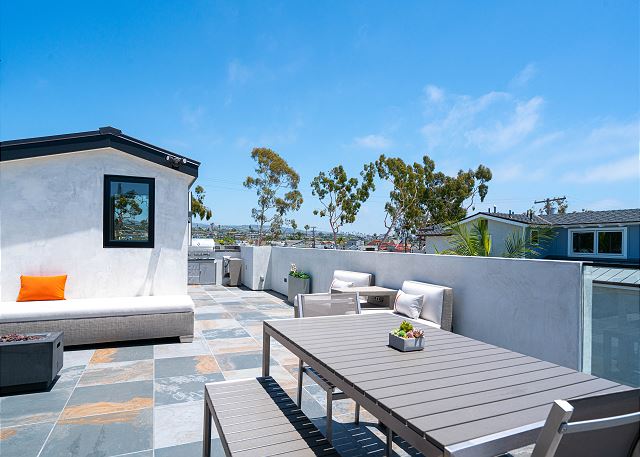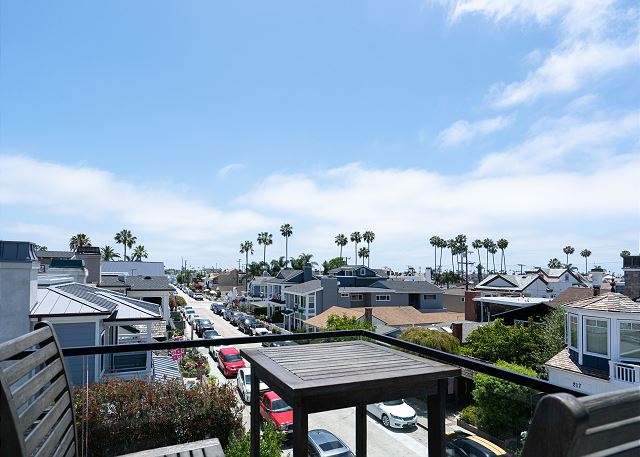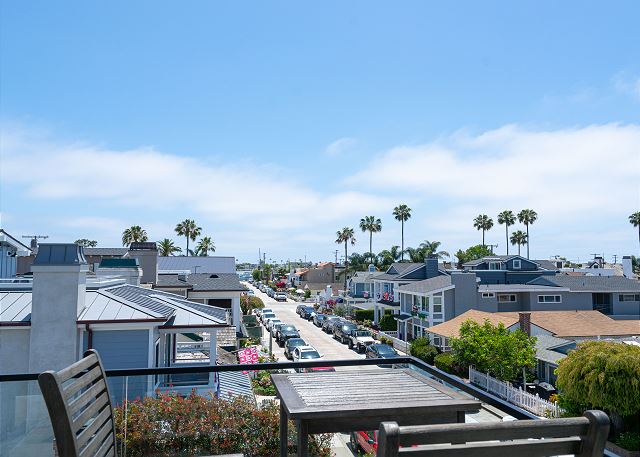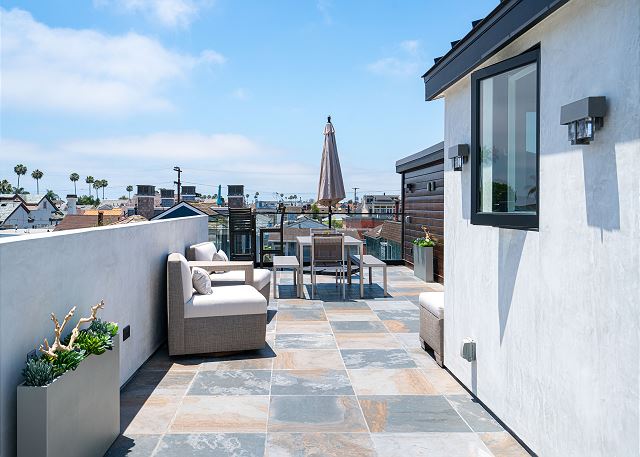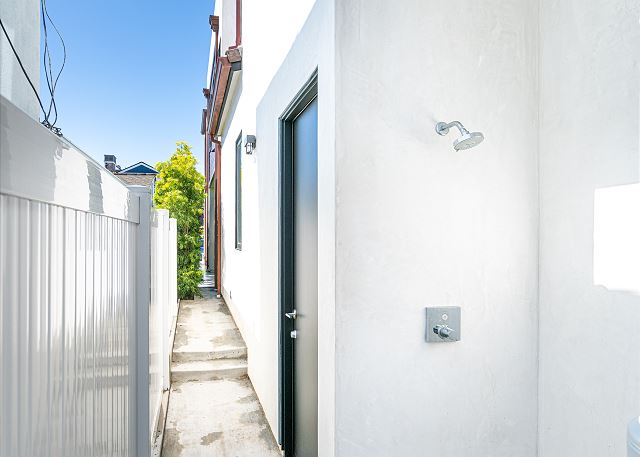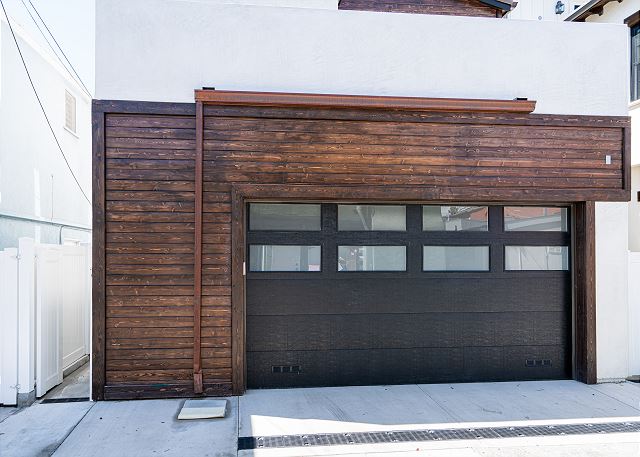 Description
Balboa Island at its finest, this home is truly a retreat and a sight to see, built with exceptional interior craftsmanship and adorned with exquisite finishes.



As you enter through the front door this home beautifully captures open concept living with a family room, expansive dining table and lounge area near the kitchen. The kitchen has an over-sized island and a plethora of counter space should you choose to make a celebratory dinner or show off your cooking skills.



This home has one bedroom and full bathroom downstairs. As you take a walk upstairs the master suite is to you right, bright and open there is a spacious ensuite deck perfect for sunbathing during the day or unwinding and watching the sunset in the evening. After a long day of exploring and beach going you can enjoy the glorious soaking tub. Two additional rooms are located on the opposite side of the home, each bedroom has an ensuite patio should you choose to read a book or enjoy a cup of coffee.



The expansive rooftop deck spans the depth of the property with unobstructed views of Newport Harbor and the Wedge. This deck is truly one of a kind, it includes a built-in gas BBQ, gas power burner mini refrigerator and sink area. Ample eating area to host your meals as well as a lounge area near the fire pit.



Located one street over from Marine Street you are steps away from all the best shops and restaurants that Balboa Island provides. The newly opened Irvine Ranch Market boasts an array of the finest foods fitted for your family gatherings. Should you choose to eat out there are cuisine options fitted for any palate.



This magnificent home will give you the space to create and captivate memories you can cherish for a lifetime.



SLP13186
Calendar
January 2022

| S | M | T | W | T | F | S |
| --- | --- | --- | --- | --- | --- | --- |
| | | | | | | 01 |
| 02 | 03 | 04 | 05 | 06 | 07 | 08 |
| 09 | 10 | 11 | 12 | 13 | 14 | 15 |
| 16 | 17 | 18 | 19 | 20 | 21 | 22 |
| 23 | 24 | 25 | 26 | 27 | 28 | 29 |
| 30 | 31 | | | | | |
February 2022

| S | M | T | W | T | F | S |
| --- | --- | --- | --- | --- | --- | --- |
| | | 01 | 02 | 03 | 04 | 05 |
| 06 | 07 | 08 | 09 | 10 | 11 | 12 |
| 13 | 14 | 15 | 16 | 17 | 18 | 19 |
| 20 | 21 | 22 | 23 | 24 | 25 | 26 |
| 27 | 28 | | | | | |
March 2022

| S | M | T | W | T | F | S |
| --- | --- | --- | --- | --- | --- | --- |
| | | 01 | 02 | 03 | 04 | 05 |
| 06 | 07 | 08 | 09 | 10 | 11 | 12 |
| 13 | 14 | 15 | 16 | 17 | 18 | 19 |
| 20 | 21 | 22 | 23 | 24 | 25 | 26 |
| 27 | 28 | 29 | 30 | 31 | | |
April 2022

| S | M | T | W | T | F | S |
| --- | --- | --- | --- | --- | --- | --- |
| | | | | | 01 | 02 |
| 03 | 04 | 05 | 06 | 07 | 08 | 09 |
| 10 | 11 | 12 | 13 | 14 | 15 | 16 |
| 17 | 18 | 19 | 20 | 21 | 22 | 23 |
| 24 | 25 | 26 | 27 | 28 | 29 | 30 |
May 2022

| S | M | T | W | T | F | S |
| --- | --- | --- | --- | --- | --- | --- |
| 01 | 02 | 03 | 04 | 05 | 06 | 07 |
| 08 | 09 | 10 | 11 | 12 | 13 | 14 |
| 15 | 16 | 17 | 18 | 19 | 20 | 21 |
| 22 | 23 | 24 | 25 | 26 | 27 | 28 |
| 29 | 30 | 31 | | | | |
June 2022

| S | M | T | W | T | F | S |
| --- | --- | --- | --- | --- | --- | --- |
| | | | 01 | 02 | 03 | 04 |
| 05 | 06 | 07 | 08 | 09 | 10 | 11 |
| 12 | 13 | 14 | 15 | 16 | 17 | 18 |
| 19 | 20 | 21 | 22 | 23 | 24 | 25 |
| 26 | 27 | 28 | 29 | 30 | | |
July 2022

| S | M | T | W | T | F | S |
| --- | --- | --- | --- | --- | --- | --- |
| | | | | | 01 | 02 |
| 03 | 04 | 05 | 06 | 07 | 08 | 09 |
| 10 | 11 | 12 | 13 | 14 | 15 | 16 |
| 17 | 18 | 19 | 20 | 21 | 22 | 23 |
| 24 | 25 | 26 | 27 | 28 | 29 | 30 |
| 31 | | | | | | |
August 2022

| S | M | T | W | T | F | S |
| --- | --- | --- | --- | --- | --- | --- |
| | 01 | 02 | 03 | 04 | 05 | 06 |
| 07 | 08 | 09 | 10 | 11 | 12 | 13 |
| 14 | 15 | 16 | 17 | 18 | 19 | 20 |
| 21 | 22 | 23 | 24 | 25 | 26 | 27 |
| 28 | 29 | 30 | 31 | | | |
September 2022

| S | M | T | W | T | F | S |
| --- | --- | --- | --- | --- | --- | --- |
| | | | | 01 | 02 | 03 |
| 04 | 05 | 06 | 07 | 08 | 09 | 10 |
| 11 | 12 | 13 | 14 | 15 | 16 | 17 |
| 18 | 19 | 20 | 21 | 22 | 23 | 24 |
| 25 | 26 | 27 | 28 | 29 | 30 | |
October 2022

| S | M | T | W | T | F | S |
| --- | --- | --- | --- | --- | --- | --- |
| | | | | | | 01 |
| 02 | 03 | 04 | 05 | 06 | 07 | 08 |
| 09 | 10 | 11 | 12 | 13 | 14 | 15 |
| 16 | 17 | 18 | 19 | 20 | 21 | 22 |
| 23 | 24 | 25 | 26 | 27 | 28 | 29 |
| 30 | 31 | | | | | |
November 2022

| S | M | T | W | T | F | S |
| --- | --- | --- | --- | --- | --- | --- |
| | | 01 | 02 | 03 | 04 | 05 |
| 06 | 07 | 08 | 09 | 10 | 11 | 12 |
| 13 | 14 | 15 | 16 | 17 | 18 | 19 |
| 20 | 21 | 22 | 23 | 24 | 25 | 26 |
| 27 | 28 | 29 | 30 | | | |
December 2022

| S | M | T | W | T | F | S |
| --- | --- | --- | --- | --- | --- | --- |
| | | | | 01 | 02 | 03 |
| 04 | 05 | 06 | 07 | 08 | 09 | 10 |
| 11 | 12 | 13 | 14 | 15 | 16 | 17 |
| 18 | 19 | 20 | 21 | 22 | 23 | 24 |
| 25 | 26 | 27 | 28 | 29 | 30 | 31 |
Available
Unavailable
Check-In Only
Check-Out Only
Seasonal Rates
| Date Range | Daily | Weekly | Monthly |
| --- | --- | --- | --- |
| 01/03/2022 - 04/07/2022 | $1,262.27 | $6,878.11 | $24,557.24 |
| 04/08/2022 - 04/24/2022 | $1,303.53 | $8,474.07 | N/A |
| 04/25/2022 - 05/26/2022 | $1,134.43 | $6,398.18 | $24,075.20 |
| 05/27/2022 - 06/16/2022 | $1,220.21 | $7,630.51 | N/A |
| 06/17/2022 - 08/13/2022 | N/A | $11,031.99 | N/A |
| 08/14/2022 - 09/10/2022 | N/A | $8,430.05 | N/A |
| 09/12/2022 - 11/22/2022 | $1,822.20 | $9,362.69 | $27,168.60 |
| 11/23/2022 - 11/27/2022 | $2,038.07 | N/A | N/A |
| 12/21/2022 - 01/01/2023 | $1,992.31 | $12,754.74 | N/A |
| 01/02/2023 - 03/30/2023 | $1,317.11 | $6,823.62 | N/A |
* Seasonal rates are only estimates and do not reflect taxes or additional fees.
Location
Guest Reviews of
218 Onyx Ave.
Newport Beach, CA
---
Vacation Rental Reviews by
stars based on
Excellent Rental
Review by
Perfect location and gorgeous house! No complaints and would recommend and rent again.
5 out of 5 stars
We will be back!
Review by
Chelle F.
Wonderful home, great for a group or just your family. We loved all the outdoor spaces. We can hardly wait to go back!
5 out of 5 stars
Manager Response:
Hi Chelle, It's so great that you had a wonderful time and we're already looking forward to having you back! Thanks - NBVP Team
BEAUTY ON THE BEACH
Review by
Jane G.
Unique, gorgeous modern house on lovely Balboa. We love the bright beachy color palette and user-friendly kitchen, porches and roof deck. Highly recommend.
5 out of 5 stars
Manager Response:
Hi Jane, We're so glad you had a wonderful Balboa Island trip and appreciate your high recommendation. Thanks so much! - NBVP Team
218 Onyx Delight
Review by
Kristin R.
Great home. Terrific kitchen. Wish there were small TVs upstairs in the master and private bedroom/bath on second floor.
5 out of 5 stars
Manager Response:
Hi Kristin, It's great to know you loved your rental and had a great trip. Thanks for your feedback about adding upstairs TVs! - NBVP Team
Great time!
Review by
Daryl W.
Great vacation!
5 out of 5 stars
Manager Response:
Hi Daryl, We're so happy you had a great vacation overall! Thanks - NBVP Team
Contact Us